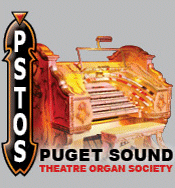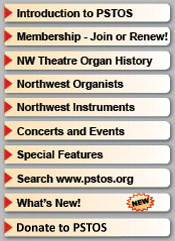 ---
Past PSTOS News
&nbsp


Here are some past News items:
&nbsp

---
Andy Crow (1933-2016)
We're sad to report the passing of Northwest theatre organ legend Andy Crow on July 12, 2016. Last October, PSTOS members paid tribute to Andy at a special event honoring his many contributions to the world of theatre organ. Click here to see the slide show.
Fall 2006 benefit/fundraiser nets $14,000 for the Paramount's Mighty Wurlitzer Restoration Fund!
Over 400 people attended a great performance by Jonas Nordwall at the Mighty Wurlitzer with special guest pianist Andy Crow. The duo performed a variety of selections from the Great Swing Era making for a truly fun and musical afternoon. Best of all, $14,000 was raised for the Wurlitzer Restoration Fund. This is nearly triple the amount raised at last year's event. Way to go PSTOS!!!
| | |
| --- | --- |
| | Private PSTOS Member Concert featuring Mark Herman November 19, 2006 Mark Herman concert at Barbara and Raymond's home, Wurlitzer Manor in Gig Harbor WA, with special cameo performance by PSTOS member Tyler Pattison nets over $2,000 for the PSTOS Scholarship fund. |

April 4, 2005 Paramount benefit concert with Jonas Nordwall exceeds expectations!.
Over $8,000 raised for the Paramount Organ/Piano Restoration Fund.


Seattle's Cheerio Theatre building demolished
Seattle's Cheerio Theatre building on Queen Anne Ave. was recently demolished. The theatre opened in 1925 and was later renamed "Queen Anne Theatre" in the early 1930's. It operated as a movie house until the 1960's when it was converted to retail use. Barely recognizable in recent years, the theatre building was removed to make way for a new condominium.


Tony Fenelon & Jonas Nordwall in Spectacular Wilcox Wurlitzer Program!
Pipes and Piano Pops at the Magnificent 4/48 Wilcox Wurlitzer and Grand Piano, Gig Harbor, WA. Saturday May 3rd at 2:00PM.


Seattle's Ridgemont Theatre Razed.
On October 1 2001, wrecking crews started the process of demolishing Greenwood's historic Ridgemont Theatre building. A multi-unit condominium/retail complex is planned.


PSTOS Scholarship Awarded to Young Organ Student. Owen Cannon of Pendleton, Oregon is a recipient of funds from the Homer & Jane Johnson Memorial Scholarship Program.


Spokane Symphony to Save Historic Fox Theatre!
The Spokane Symphony has announced a plan to save the glamorous landmark Fox Theater from the wrecking ball.


6.8 Earthquake Damages Local Theatre Organs
Olympia's Washington Center Wurlitzer suffered major damage in the February quake and has just recently become playable again. Other Northwest instruments faired better.


Spokane's Historic Fox Theatre at risk.
Spokane's historic Fox Theatre is for sale. One potential purchaser plans demolition of the Art Deco gem.


PSTOS Contributes to Smithsonian Wurlitzer Project. The PSTOS Board of Directors recently voted to contribute $1000. toward the Smithsonian Wurlitzer organ project.

PSTOS Holiday party pictures December 5, 1999. Biggest turnout ever! Musical entertainment was provided by Andy Crow at the organ with special surprise guests! Great music, great food, great fun for everyone!


Event review: One Big Weekend, Opus VI a great success.
This three day event, with six venues, four organists and a host of other performers was enjoyed by all.


Everett Theatre - Premiere of the Pipes - October 2
Andy Crow accompanies the Buster Keaton silent classic "Steamboat Bill, Jr." for this inaugural concert on the Everett Theatre 3/16 Kimball.


ONE BIG WEEKEND, Opus VI! - September 10-12
This special three-day event is hosted this year by PSTOS. Four different venues, open console session, Vaudeville at Hokum Hall and More!
Added Attraction - Friday Pre-Glow with Walter Strony!


Tacoma Pizza & Pipes Lost in Tragic Fire!
On Tuesday evening August 3, 1999 the Tacoma Pizza & Pipes restaurant was lost. A fire started in a pizza oven and quickly spread to the rest of the restaurant.


Return of Silent Movie Mondays at the Paramount Theatre
Seven classic silent films including comedy, mystery and adventure will be accompanied by Dennis James on the Paramount's 4/20 Mighty Wurlitzer. Mondays at 7PM, June 7 through July 19.


Everett Theatre organ almost ready for first public performance! On April 26, Greg Smith gave a mini demonstration concert for Everett Theatre Society Board members and organ crew volunteers.


John Giacchi Playing Organ Pops
John is another of the young and talented organists from "Down Under." His playing is worthy of the highest praise. Sunday, April 25 at the 4/48 Wilcox Wurlitzer!


Tedde Gibson in Concert, Sunday February 14, 2:00PM
Tedde was such a big hit at the Christmas party that we've brought him back for a full Valentine's Day Concert and Social.


&nbsp Concert Review: Ron Rhode at the Wilcox Wurlitzer
Ron's varied program was a definite crowd pleaser. The first-ever PSTOS evening concert at the Wilcox Wurlitzer in Gig Harbor was enjoyed by all!


&nbsp Concert Review: Walter Strony at the Gould Studio Wurlitzer
The former Greenwood Pizza & Pipes Wurlitzer is back with a vengence! Walter's concert was an impressive introduction to the voices of this 3/28 instrument.


Paramount Theatre - Return of Silent Movie Mondays!
The Seattle Landmark Association announces the return of Silent Movie Mondays: The Adventure Series. Nov 9 & 16. Two classic silent adventure films will be shown with live theatre organ accompaniment by Dennis James.


RON RHODE Plays Theatre Organ Pops!
PSTOS is proud to bring Ron to the Northwest for this event. Hear the spectacular 4/48 Wilcox Wurlitzer in Gig Harbor Sat. evening, Oct. 24th, 7:30 pm


PSTOS Announces Documentary Video Project
"Sounds of Wonder in A Palace of Dreams- Admission 10˘"
PSTOS sees an opportunity to spread the word about theatre pipe organs through a documentary video suitable for educational television.


&nbsp One Big Weekend, Opus V a Great Success!
One Big Weekend, this year hosted by Columbia River Organ Club (CROC), featured Charlie Balogh, Jonas Nordwall, Donna Parker, Martin Ellis, Marti Lynch, Chris Nordwall and others.


Paramount Theatre - Silent Movie Mondays
The Seattle Landmark Association announces Silent Movie Mondays at the Paramount Theatre: Aug 10, 17 & 24. Three classic silent films will be shown with live theatre organ accompaniment by Dennis James.


John Atwell In Concert at Washington Center.
Plus a bonus side trip to nearby Yelm to see Father Terrence's Robert Morton theatre pipe organ.


PSTOS On The Air! via radio or Internet audio broadcast.
Roger Sherman, host of the Organ Loft program heard weekly on KING FM 98.1, will feature Northwest Theatre Organs on the Sunday, July 5th programs: 6AM & 10PM. Be sure to tune in!


Franklin High School Arts Festival
PSTOS has been invited to show a silent movie accompanied by Tedde Gibson at the Franklin Annual Arts Festival and Auction on Friday May 15th.


In Loving Memory of William "Bill" Bunch
On May 2, 1998, following a long battle with Parkinson's disease, the pipe organ community lost one of its finest.


Franklin High School Organ Awareness Program
PSTOS is helping Franklin High School students and faculty get acquainted with their 3/13 Kimball Theatre Pipe Organ!


1998 Young Organist Competition
Now is the time of year to begin getting ready for the 1998 ATOS-sponsored competition. The competition begins at a local level and provides a showcase for young organists. Winners compete at the ATOS National Convention next summer.


Seattle Paramount Wurlitzer plays again!
Recent news is that the Paramount Wurlitzer is playing again! The console was returned to the theatre late last year and the installation of a new solid-state relay has been completed. Lots more is to be done, but it's good news!


Bene Hamel - Central Lutheran dedication.
Nearly sixty years of dedication and know-how by PSTOS charter member Bill Bunch have produced a magnificent American Classic instrument. Join us for a truly unfortgettable dedication concert.


David DiFiore - Town Hall Concert!
Mr. DiFiore has an international reputation, touring regularly in Europe. The program will feature patriotic, gospel, improvisations, romantic, classic, not-so-classic music, and will recreate the Town Hall concerts performed by the village organists on the pipe organs of Europe.


Everett Theatre's Restoration Enhanced by Donation of Pipe Organ
Thanks to the generosity of several donors, a three-manual, 14 rank theatre organ in excellent condition was purchased in September.


In Memory of Homer R. Johnson
Homer R. Johnson, a longtime member of the Puget Sound Chapter and lifetime devotee of the organ, passed away on August 4 at the age of 84. Homer and Jane McKee Johnson were synonymous with organ music in Tacoma and Puget Sound.

---