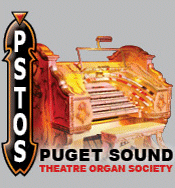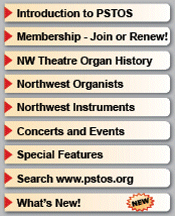 ---
Everett Theatre - Premiere of the Pipes
Andy Crow accompanying the silent classic
"Steamboat Bill, Jr." with Buster Keaton.
&nbsp
Saturday October 2, 1999
&nbsp

On October 2, 1999, the Everett Theater Society will present its first organ concert in over 45 years.
&nbsp
Premiere of the Pipes will showcase the Historic Everett Theater's newly restored theater pipe organ with performances of show tunes, classical pieces, modern music and the accompaniment of a silent movie.
&nbsp
More information on the Everett Theatre Kimball
&nbsp
The evening's entertainment will be performed by Andy Crow. Andy has been an organist since age 10. He is well known throughout the Northwest as a top-notch musician, equally at home on the organ and piano. Andy honed his performance skills at the Music Box, Roxy and Temple theatres in Tacoma, and the Orpheum and Paramount in Seattle. He was also a regular performer at the Pizza and Pipes in Tacoma until fire destroyed the restaurant and its organ on August 3, 1999.
&nbsp
The silent movie, "Steamboat Bill Jr." (1928), is a Buster Keaton classic. Buster Keaton stars in the story of a college-educated young man who comes home to help his father work on his Mississippi River steamboat and immediately demonstrates just what a landlubber he is. What's worse, the woman he falls for is the daughter of his father's worst rival, a bullying rich guy who wants to drive Buster's boat out of business. Keaton's slapstick is inspired and precise, particularly during an amazing sequence in which he tries to walk across town during a tornado. Watch in amazement as the front of a building falls on Keaton and he walks away without a scratch.
&nbsp
The Everett Theatre pipe organ started out as a small instrument with a simple console (originally 2 keyboards with 1 row of stops) and 5 ranks of pipes (Voices) designed by the Kimball Organ Company. The organ was first installed in Seattle's Woodland (Olympic) Theater in 1925. Since its initial installation, the organ has moved to three different locations, had several pipe ranks added and the console has been upgraded to 3 keyboards and two rows of stops. The Everett Theater Society bought the organ from another Puget Sound organist, Howard Burr who had it installed in his home in Seattle.
&nbsp
For the October 2nd performance, the organ will have 16 ranks consisting of over 1100 pipes, five tuned percussion instruments (xylophone, glockenspiel, etc.), and numerous non-tuned percussion instruments (drums, cymbals, etc). The air required to play the notes will be created by a large two-stage Spencer Orgoblo blower driven by a 15 H.P. motor.
&nbsp
The combination of the instrument, the performer, and excellent acoustics of the Historic Everett Theater makes this a performance you just have to experience yourself to believe. No electronic instruments or amplification will be used during this performance. The pipe organ will be presented as it was in the 1920s and is guaranteed to move you in many different ways during the performance.

Read a review of this event
---