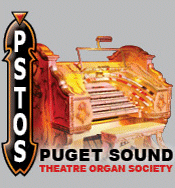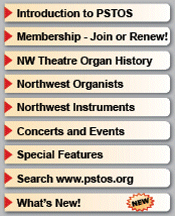 ---
Paramount Theatre - Silent Movie Mondays
Mondays, June 7 - July 19, 7:00PM
&nbsp


Information about the Paramount Theatre Wurlitzer Theatre Organ
The return of the popular
Silent Movie Mondays!
June 7 - July 19, 1999




Named as one of the best events of 1998 by the "Seattle Times," Silent Movie Mondays returns to The Paramount Theatre with eight movies over seven consecutive Mondays - Starting June 7! All movies are at 7pm

The Seattle Landmark Association is thrilled to announce the return of Silent Movie Mondays at The Paramount Theatre. This classic silent films series will again feature live accompaniment by Dennis James on the Mighty Wurlitzer Organ, one of the few theatre organs still in its original home. The series includes four comic silent movies in June and three mystery/adventures in July.




Comedy

June 7, 1999
SHOW PEOPLE / 1928
79 minutes
Marion Davies.
Charming comedy feature loosely based on the career of Gloria Swanson, featuring cameo appearances by Chaplin, Hart, Fairbanks and Gilbert.




June 14, 1999
A Tribute to Charlie Chaplin..... A screening of 2 "featurettes." These films broke the mold of 20 minute comedies that the industry forced comedians to make. Setting the stage for full length comedy features.

THE PILGRIM / 1923
40 minutes
Escaped convict, switches clothes with a preacher and funny things happen in the church and even bank robbery, a chase into Mexico.

A DOG'S LIFE / 1918
40 minutes
Charlie playing the Tramp. Involved with a little stray dog, he is a stray person and together experience multiadventures.




June 21, 1999
SEVEN CHANCES / 1925
55 minutes
Buster Keaton.
Buster has 7 hours to get married in order to inherit a fortune, etc.... Chris O'Donnel will be starring in a remake coming out this summer
(The Bachelor).




June 28, 1999
THAT CERTAIN THING / 1928
Directed by Frank Capra.
A matinee movie. Young, poor girl who dreams of marrying a millionaire. His parents try to buy her off, and funny things ensue, etc...... Classic Americana, recently restored.




Mystery & Adventures


July 5, 1999
THE BAT / 1926
82 minutes
Directed by Roland West.
This is the film that served as the inspiration of the famous cartoon character, BATMAN. Hollywood's finest director of mystery movies, Roland West, converted this hoary stage melodramas into a classic of cinematic intrigue. The Bat, a master-criminal, leads his pursuing band of civic leaders on action packed escapades.




July 12, 1999
THE BLACK PIRATE / 1926
95 minutes
Directed & starring
Douglas Fairbanks.
A classic pirate tale. The ultimate high seas adventure. Presented in Technicolor(2nd full length movie to be made in Technicolor).




July 19, 1999
DR. JEKYLL & MR. HYDE / 1922
69 minutes
Starring John Barrymore.
The famous silent film version of the Robert Louis Stephenson tale of an internally conflicted physician with a tour-de-force characterization by Hollywood's then leading man, John Barrymore.




World renowned organist Dennis James returns to Seattle to accompany all eight of these films on The Paramount Theatre's reconditioned Mighty Wurlitzer Organ. He has performed to silent films the world over; including Australia, Rome, Paris, and England. "The people of Seattle are some of the luckiest people in America - a fabulous theatre, a wonderful organ and silent movies on the silver screen," said Dennis James, "I am thrilled to be returning to The Paramount, the showplace of the Northwest, and bringing silent movies back the way they were meant to be seen."




Tickets are available at The Paramount Theatre Box Office or at any Ticketmaster location.

All movies start at 7pm.

Tickets prices are:
$10 per movie
$7 seniors 65 + and students
Family pass: buy 3 tickets, get 4th free
June pass (4 movies): $32 + free small popcorn @ each movie
July pass (3 movies): $24 + free small popcorn @ each movie
Summer pass (all movies): $49 + free small popcorn @ each movie
For groups call 1-877-878-2217.

---