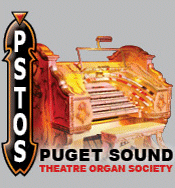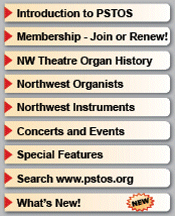 ---
&nbsp
One Big Weekend, Opus VI - September 10-12, 1999
&nbsp


Back to the One Big Weekend Opus VI main page
| | |
| --- | --- |
| | On Friday, Dusan Mrak (left) welcomed about 60 PSTOS members to his Lake Campbell (near Anancortes) studio to hear Walt Strony perform on the brand new George Wright Special 4-manual Allen. Jerry van der Pol, the Allen dealer, is in back. |
&nbsp

Don Feely played an outstanding concert on Fr. Terence's Robert Morton at St. Columban Church in Yelm.
&nbsp
The Altar Society provided a superb lunch for everyone.
&nbsp

&nbsp
Back on the bus, it's off to Kent and the Becvar home.
&nbsp


&nbsp
The Becvar's Wurlitzer, with its newly restored 3-manual console, sounded great. Their unusual home easily accomodated the large crowd who enjoyed Eric Shoemaker's varied program. Jack and Mary Lou have a player piano playable from the organ console, and Eric put that through its paces as well.
&nbsp

Outside and inside, Hokum Hall is a one-of-a-kind place. The Wurlitzer is "not quite ready for prime time", but is beautiful, and will "debut" later this fall.
&nbsp
"Professor Hokum W. Jeebs' is a rare talent. Several numbers were performed on his "piano bicycle", a highly entertaining segment.
&nbsp
&nbsp

&nbsp
&nbsp
The four main Hokum players are: Louis Magor, pianist/singer, Connie Corrick, singer, Dan Grinstead, ragtime pianist, and Hokum, himself. The show included lots of musical comedy, and was very fast moving. A full two and a half hours in length, it was a memorable evening. Stay up to date on Hokum Hall events at http://www.hokumhall.org.

Nita and Bill Masterman invited all OBW attendees to see and hear their fabulous collection of roll playing musical instruments. Bill did the restorations himself, and in addition, entirely built his own orchestrion with pipes, piano, percussions, accordion, etc. If you missed it, you missed a great experience!
&nbsp


&nbsp

| | |
| --- | --- |
| | The Grand Finale-Patti Simon & Dick Kroeckel played a delightful program at the Wilcox Wurlitzer in Gig Harbor. Well rehearsed and very entertaining, the couple got high marks from everyone! A wonderful ending to a great weekend. Many thanks to both Patti and Dick! |
&nbsp

---