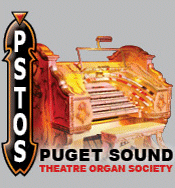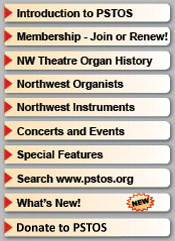 &nbsp




Welcome to the Puget Sound Theatre Organ Society, a non-profit organization furthering the appreciation, preservation and use of the Theatre Pipe Organs of yesteryear. PSTOS serves Washington, Oregon and the entire Pacific Northwest.
---

&nbsp This Week's Featured Instrument:

---
2020 Theatre Organ Pops concert series
Justin Stahl - April 25 - POSTPONED , TO BE RESCHEDULED
Simon Gledhill - June 27 - POSTPONED , TO BE RESCHEDULED
Clark Wilson - October 24- POSTPONED , TO BE RESCHEDULED
---
Join PSTOS or renew your membership online!
PSTOS has partnered with PayPal to provide a secure way for you to join or renew online using a credit card.
Sign-up for PSTOS E-mail Alerts!
Sign-up to receive e-mail updates with the latest PSTOS news, concert announcements and Northwest Theatre Organ happenings! Also, sign-up to receive e-mail notifications when pages are added to the PSTOS web site!
Read More News
---