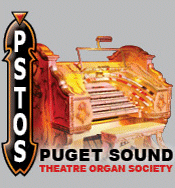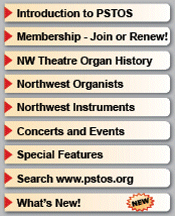 ---
Welcome to the PSTOS web site. Thank you for visiting our pages.
Please add your name and comments to our guestbook.
&nbsp
&nbsp
If you would like to leave a guestbook entry now, please e-mail webmaster@pstos.org and we will add it manually. Please accept our apologies. We had to remove the automated "Sign Guestbook" feature due to excessive spammer activity. Thanks for visiting the PSTOS web site!
&nbsp

---
In looking for pictures of the Capitol Theatre, in Juneau, I happened upon your web site. My first job was at that lovely theatre, during the summers of 1967, and1968, I believe. My uncle Buck Emery was the assistant manager, to Mr. Jack Abbott, if I remember his name, correctly. I was so fortunate to be able to work there and will never forget my first paycheck of $9. Someone suggested I frame it rather than spend it, which seemed insane to me at the time. Instead, I promptly marched over to Baron's Department store and bought a pair of white jeans, an orange blouse, and some perfume! All of 12 years old, at the time, I felt on top of the world. At the time, to sit in the "lodge" seats was $2.75. MUCH too expensive for me. Though I was much younger than the teenagers working at the theatre then, I have such fond memories of my job, and the movies those two summers. I am sorry to say, however, that as an usherette, part of my assignment was to break up any "romantic" endeavors occurring upstairs in the balcony. Unfortunately, those were my fellow employees I was interrupting and I was none too popular for following directions. I'm afraid my uncle Buck is no longer alive to relive these memories with me, and I would assume the same can be said for Mr. Abbott.
&nbsp
Sincerely,
&nbsp
Dr. Robin Cogburn
Spanish Teacher
Mountlake Terrace High School
Mountlake Terrace WA
August 22, 2016
&nbsp

---
Greetings, I'd like to sign the GuestBook. Wally Young, Victoria, BC, Canada
Wally Young
November 12, 2015
&nbsp

---
I found this site awhile ago when searching my family archives. In particular, I enjoyed the information about the Capitol Theatre Vancouver BC. My uncle Charlie Doctor was the manager for 20 years from about 1947 and 1967 before passing on. I had occasion to work for the theatre in my younger days when he required help with lineups etc. I enjoyed the banter between him and Ivan Ackery at the Orpheum down the block in their endless attempts to one-up each other. I enjoyed movies in those days and spent many Saturdays in theatres. I would love to see some old photos of the theatre and him if they were available. I might send a request to Famous Players. Love the site and keep up the good work.
Brian Doctor
Surrey BC
November 7, 2015
&nbsp

---
I enjoyed the pictures of the Star Theater, which originally was located in the Pythian Castle in Weiser, Idaho, I was interested in the picture of the theater from 1914, the gentleman with the light shirt on the right was my great grandfather, his name was Charles Burger he was born in Iowa in 1864 and moved to Idaho around the turn of the century, he originally lived in a small town called Murphy, Idaho where he was the postmaster, he then moved to Weiser, Idaho and bought the Star Theater and operated it for several years, until he sold it and moved to Caldwell, Idaho and died in 1955. Thank you for the memories,
Sincerely,
Mark D Crowley MD
November 27, 2014
&nbsp

---
&nbsp
My name is Emory Lindgard. Wanted to sign your guest book.
&nbsp
My Dad Elmer Lindgard was a pipe organist in the 50s and 60s. He had Balcom and Vaughan install a pipe organ in our home. I remember Bill Bunch playing Frosty the Snowman on pipe organ at going home time. Usually after turning up a rank of pipes.

| | |
| --- | --- |
| | I found one picture that neighborhood lady took of us one Christmas in 1957. My Dad Elmer is playing Pipe Organ. Back then I was learning to play the Viola. I would take lessons at Bryant Elementary. My teacher was Miss Norma Durst who played the Viola in the Seattle Symphony. My mother Jean is in the picture near the Christmas Tree. |
&nbsp
Not sure where pipe organ ended up? My Dad sold it to Japanese man who intended to open a Pizza and Pipes in North Vancouver BC.
&nbsp
I am not sure where old pipes came from when organ was installed. I remember the Living Room picture window was removed to bring the console into the house.
&nbsp
There was one room in basement of old pipes...might had been from a church in Eastern Washington. There was smaller room of new pipes. Probably seven ranks of pipes.
&nbsp
Emory Lindgard
Freeland, WA
April 11, 2014
&nbsp

---
&nbsp
Love your site! I wish we had as much of that wonderful pipe music here out here on Cape Cod, or in Boston, as you do out west! (Although we still have one of two grand summer stock theaters that have been around since the twenties.) I remember watching Jonas Nordwall performing his tantalizing wizardry some time ago (early 80's) in a pizza "joint" in the Portland area- with my dad, Dal. It's amazing that Jonas is still at it, and good to see that his son is carrying on such a rich tradition. Keep up your great and very important work!
&nbsp
Gayle McKennon
January 6, 2012
&nbsp

---
&nbsp
I'm so glad I stumbled onto this website. It brought back great memories for me as a kid in West Seattle. I used to go to the Granada on friday nights back in the early 70's when I was a young teen. I would go to the Admiral sometime but I really liked the movies & music from the Granada. Perils of Pauline were my favorites. I still enjoy old movies on TCM & have not had a desire to see any other movies that have come out for many many years. I became a great fan of the movies of the 30's & 40's due to my exposure to the silent films I enjoyed as a kid. I went back to the old location one day years ago & found a Dennys, my heart broke right there on the spot. I went in & notice the pictures on the wall were of my dear old friend the Granada. I have the fondest memories of going to the theater & being practically the only person there under 40 or 50 & I didn't mind at all. It actually cost 25 cents more for me to go to the Granada than it did the Admiral theater down the road.I will alway hold a special place in my heart for the Granada & the organ & the men who played it.
&nbsp
Sincerely,
Sue Bale
July 11, 2010
&nbsp

---
&nbsp
I found your site by chance tonight and it was a wonderful stroll down Memory Lane.
&nbsp


Scott Lindstrom
I discovered "organ" in 1958 when, at 8 years old, I walked into Homer Fulton's Thomas Organ Studio in Lakewood, WA. I fell in love with the sound and possibilities (as limited as a 1958 Thomas could deliver). [Actually, one of his salesmen played a Lenny Dee album for me and I was hooked…..]
&nbsp
But over the next few years my horizons were expanded. First, I met Jane McKee and she introduced me to the Gulbransen Rialto and the Rogers. Next, Homer went on the radio and I had spots with Andy Crow and Wally Strickland.
&nbsp
In the late 60's I moved to Seattle. In 1975 I went to work at Sherman Clay Northgate, in 1978 I moved to Tallman's, and in 1980 I went back to SC as manager of the Northgate Mall store.
&nbsp
Thelma Barclay was a great friend. As was Tommy Hobbs (somewhere in the 80's I managed his SeaTac Mall store). And, of course, there was the Plaid Piper. Dick Schrum always laughed when I requested "On Green Dolphin Street". But he always played it and the guests I brought to hear Dick on his Hammond X-66 always dug it.
&nbsp
Some memories are multi-dimensional. I met Brian Ingoldsby "on the radio". His Ham Radio call is K7ZRZ. Mine was WB7OEP (now NW7U). In talking on the radio, we discovered our commons interest in "The Keys". As it turned out, the people I worked with (Belmon and Leland Hall) were friends of "Big Bob". All this fell together into "after-hours" times with the Pipe Dream machine (one of us would play while the others wandered around in the pipe chamber – I can still feel it!).
&nbsp
Truthfully, my command of the Theater Organ is limited – if I'm known at all, it's as a B-3 jazz player. But I've always loved the enveloping clime and atmosphere of a wind-blown Wurlitzer.
&nbsp
Thank you again for bringing this to those of us who remember and those in the world who don't know what they've missed.
&nbsp
Sincerely,
Scott Lindstrom
Puyallup WA
March 17, 2009

---
Tommy Ford
Roswell, Georgia
---
I was one of the original managers of the Tacoma Pizza & Pipes, and would love to find Dick & Margaret Daubert. Can anyone put me in comtact with them? Thanks! Laurie Bornstein
Laurie Bornstein
Plano, TX USA
---
Does anyone know how I can get a copy of the theater organ solo " Vanessa"? Publisher?
Rick Wilson
USA -
---
Keep up the good work!
Paul Kealy
USA -
---
Very interesting information. Thanks!
David
West Chester, OH USA -
---
What a wonderful web sight. In 53 I started skating to hear the beautiful organ music and love playing a real pipeorgan. I was very involved with Seattle ATOS in the 70's and used to work for Balcom & Vaughan in organ service. I would love to know if anyone has fully sampled a theatre pipe organ for midi instruments. Organs in Mexico are in tough shape so I have to make do with sampler equipment. Keep up the good work.
Harvey Rossiter
Xico, Veracruz Mexico -
---
Probably the finest Website I have seen. Very well organised simple to use.What I would like to see in the future if it is possible is stop and rank lists for the organs especially the rarer instruments which we have never seen in the U.K.I realise it may not be possible for some of the older and now non-existing instruments and would require a lot of time to assemble, but it would be very much appreciated.Well done.
Richard
USA -
---
Does anyone have info on a Gulbransen 400? It has the Leslie speaker system(!) I just got one free from our church. I have already begun to do some recording with this. Any tips on that?
Christopher Gipson
Mulberry, In. USA -
---
I enjoyed listening to Donna Parker's recording when she was at the Paramount Music Palace in Indianapolis. Also enjoyed Bill Vlasak and Dwight Thomas and Trent Sims
Brad Clidence
Anderson, IN USA -
---
I have some more question about symphonic carillon keyboard Did Paul Maas have anything to do with starting the symphonic carillon keyboard? what is the difference between the symphonic carillon and the carillon americana ? Is the symphonic carillon an organ console ?
Channing
Charlotte, NC USA -
---
I love church bells-carillons I have been studying the carillon keyboard of the Symphonic carillon and I have alot of questions about the symphonic carillon Keyboard Is there anyone that can talk to me about the questions I have about the symphonic carillon keyboard. Channing
Matthews, NC USA -
---
Wow- what a fantastic, detailed web-site!! Love all the pics of the old theatres - have worked in the Australian Cinema Industry myself for 25 years and am a keen theatre historian. Keep up the great work! Warmest Regards - from "down Under"!! :-)
Kevin Adams
Melbourne, Vic AUSTRALIA -
---
Would like to purchase cd(s) of Dick Liebert takes Richmond
Robert Huber
Panama City, Panama -
---
Loved your site! We are a traveling family band, and will stop by to see your place when we get up your way. Maybe we can even play nearby. Check our website, and let us know you did by signing our guestbook. We would love to hear from you!
Janette O'Brien
Evergreen, CO USA -
---
In an attempt to find a Pizza & Pipes somewhere close to Kentucky, I discovered the tragic loss of the Tacoma P & P. We lived in Tacoma from 1988 to 1992. We only found the Tacoma P & P a few months before we were once again transferred. We have tried to find another like it in our many transfers over the years and have shared the memory with many in our travels. We found one in Fresno, California and were regular patrons. Since then our search results have yielded nothing close enough. The Tacoma P & P was one of the highlights of our brief stay in Tacoma. Our deepest, but belated, sympathy to all involved in the loss. I didn't have time to read the whole article. Are there ANY plans to attempt restoration?? Also, is there a P & P in or near Kentucky??
Bill and Cherri Kidd
Horse Cave, KY USA -
---
The pipe-organ has always been one of my favorites to listen to : both classical and popular music. I especially enjoyed the artistry of Bob White and Greg Smith at Greenwood P.& P. I first learned of this web site through my friend Bob Jones....Thanks !!!.........Dar..
Darrell Forsberg
Seattle, wa USA -
---
Hi, Seeing the pictures on your web site remind me of my favorite restaurant as a kid in Toronto, Canada. It was called the Organ Grinder or as us kids called it the Pizza Pipes. It closed down about 10 years ago and I have dreamed of opening up my own ever since. I'll keep dreaming and visit your site and others every now and again. Thanks for the trip down memory lane.
Michael Huehn
Orangeville, On Canada -
---
just surfing. Came across this site. Read article on Ray Whelpley...
James C. Whelpley
Cleveland, oh USA -
---
Greetings, I may have an Eminent 200 Grand Theatre organ available for sale soon and don't have a clue as to it's age. where it was manufactured or value. If anyone could enlighten me with some information on this beautiful white organ it would be greatly appreciated. Pictures on request. Thank you! Bob
Bob Shimits
Solon, oh USA -
---
Nice web site.
Richard L. Geyser
Berea, OH USA -
---
I am 37 yr old and as a very young teen I spent many nights in the organ grinder with my first love. those were some of the best days of my life. I have to know who the actors were in the silent films that were played. Its driving me crazy. karen Hamilton
Karen Hamilton
bingen, wa USA -
---
We thought there was an ATOS chapter in Bellingham called the Mount Baker chapter. Is this not true? Puget Sound chapter is the only one listed in Washington on the national register. Please advise. If yours is the only one, we will renew our membership with you, but our plan was to join the Bellingham group.
Eva and Fred Beeks
Skagway, AK 99840 -
---
I have a Wurlitzer organ, model 4602 which is in need of repair. Does anyone know of an organ technician in this area who is willing to repair it?
Arline Hinkson
Bayville, NY USA -
---
I know you may not be inthe buy/sell format for Organs. I was surfing the net and found your website. I have a Wurlitzer 4017 Serial # 826969, in mint condition, with all original manuals and start up books and at least 20-30 original learn to play the Wurlitzer Organ music sheets. There are also some other organ music books/sheets in the bench. This was purchased in the hopes one of my three daughters would take interest, but the video games and cd players won out. I am the second owner and I purchased it from the original owner/player. If you know anyone in your organization that may be interested, please contact me. Thank you for your time Tim
Tim Casher
Duncansville, PA USA -
---
Great site. I have a estay organ no. 247399 and am interested in selling, great condition, early 1800. If anybody knows anything about estay pump organs, please e-mail me, thanks. rogerj998@aol.com Wanda
wanda Johnson
Las Vegas, Nv USA -
---
Been looking for Program Listings for Pipe Organ concerts for Elsinore theatre Salem Oregon for years, Can you help? I am past member of ATOE from calif.Have not seen or heard any pipe Organ music for some 14 years now. Last performance was George Wright at Paramount in Oakland, Ca. I need to get back in the swing of things. Hope you can help me, might even be interested in joining some local club. Thank you Ron Parrack
Ron Parrack
Woodburn, OR USA -
---
Everyone ridicules me for it, but organs are my favorite instrument, glad to have found your website.
Badrinath
USA -
---
I CAN'T TELL YOU HOW HAPPY I WAS TO COME ACROSS YOUR SITE. MY DAD WORKED AT KOIN FROM 1953 UNTIL HE RETIRED IN THE 80'S, AS A KID I HUNG OUT WITH ALL THE KOIN RADIO LIVE STUDIO MUSIC PLAYERS AND THEY WOULD TELL ME ABOUT THE OLD DAYS. TTHE DYA IN THE "NEW PLACE" ON COLUMBIA WERE NEVER TO COMPARE TO THE HEALTHMAN AS FAR AS THOSE GREAT OLD GUYS SAID. aLL THE BEST, cYNTHIA
cYNTHIA MASON
PORTLAND, OR USA -
---
Wonderful website! So glad the Spokane Symphony saved the Fox Theater. What a loss when these beautiful, never to be duplicated palaces are demolished.
Joyce Spark
Sutersville, PA USA -
---
EXMAS GIFT VERY OLD HOWARD CHURCH ORGAN..HAVE CHANCER NEED ANY INFO ABOUT THIS ORGAN NO LONGER MFG. IN GREAT SHAPE..JOY OF MY LIFE
MYRNA W.RILEY
GRAYSVILLE, AL USA -
---
Wow, what a treat to read about pipe organs in the skating rinks, especially about my family's rink in Redondo. The day after tomorrow (January 19th 2005) it will be 54 years ago it burned.(In 1951) that it burned in 1951.
Barbara Betts Englund
Everett, WA USA -
---
Very interesting site even though I am not well educated about theatre organs. Someday I would like to hear one played live so I'll keep checking this site for a concert I can get to.
Travis Moran
Nanaimo, BC Canada -
---
i want to know, how is Dusan.
Diana Sorensen
Sacramento, Ca USA -
---
I've enjoyed looking at the pictures you have of the old Redondo Roller Rink. I've lived in Redondo Beach over 50 years and would love to here stories about Redondo or if any one out there would have pictures of Redondo please contact me. Thanks, keep up the good work.
Rick Johnson
Des Moines, Wa USA -
---
In the Goliath piece the 34 foot high organ required removal of most of the second floor of the old Odd Fellows hall. The hole is still there, but it looks good with the dark wood railing decorating.
Clyde Shoe
Carnation, WA USA -
---
I am intrested in anyone collecting Wurlitzer Organs. I own a Wurlitzer Model#4601,very good shape. Maybe one of you good collectors out there,that I know musicians are, could direct me to a reptuble?Dealer.Thanks.Great site!N.W.Rules!
Richard W. Dye
Toledo, OR USA -
---
I enjoyed your pictures and information about the Playland Amusement Park and Skating Rink. I lived right across the street from the Park, and was 12 years old when they tore it down. I spend much of my childhood at the Park and Skating Rink. Thanks.
Kathi McDowell
Seattle, Wa USA -
---
I am planning to return to western Washington State after an almost 30-year absence (see my earlier comment, July 1999). Am considering Olympia and wonder what theatre organ groups are in that general area and what instruments are available to the recreational player. Is the Haller Lake instrument still functional?
Doug Bacon
Niceville, FL USA -
---
Wonderful Site: October 22, 2004 I am looking for a Pipe organ were the students of Marco Mendez at Prossers in Bellevue, can come and see a Pipe Organ, Marco is 40 Years old and has been playing organs for 37 years, Spent lots of time in New York, at the Paramount, Wanamakers, Large Churches, and is a certified Player for the Roland Co. I have one myself. I used to be a member myself when we Had Pizza & Pipes to go to. Any help would be helpful Thanks, Ed Maurer
Edwin Maurer
Mountlake Terrace, WA USA -
---
I can Type a little better than that, bet not much. I do occasionally use punctuation and I can get all three letters in three letter words if i remember to go back and look. "K"
Stan Kapuscinski
University Place, Wa USA -
---
I provided the generator and a son ( four hands) to help drain and cary out the Pizza Pipes organ Checked in to see if you had ay follow up on how much of the instrument Jonas was able to clean up and find a new home for.
Stan Kapuscinski
University Place, Wa USA -
---
I just wanted to say hello. I wish you much success with this website. Robert
USA -
---
LTOB is the current owner of the Liberty Theater in North Bend, OR. Many have wondered what happened to the mighty Wurlitzer which was installed when the Liberty was built. I have included a link to your information about the organ at the URL I posted with this signing. Keep up the good work!
Don Williston <publicity@ltob.net>
North Bend, OR USA -
---
I have been playing the theatre organ for 6 months now and must say it is truly hard work. Great coming across a site like this.
Sean
USA -
---
just looked at Austin console. I have been especially interested in things AUSTIN. I used to play for Methodist church 0n Austin opus 1846, built in 1933. Small, but very pretty with only 14 ranks. Wurlitzer theater organs facinate me also. I enjoy reading stoplists. Thanks
a l chandler
lane, sc USA -
---
I enjoy looking at your web site, especially the Northwest organ history. At present the following URL gives a short description and pictures of my organ. (http://www.hochhalter.com/page22.html) I am taking music lessons again to learn to improve my playing. My Wurlitzer has such a great sound in this present installation that I am motivated to play much more than before. This is the third installation that I have done and is by far the best thanks to Lanny Hochhalter.
Allan Plunkett
USA -
---
Great web site. Thanks for sharing.
Dick Haynes
Sun City, CA. USA -
---
PS> I have also played the Piano for 8 years.
Tyler Pattison
Gig Harbor, WA USA -
---
I'm 13 years old and i have been playing the theatre organ for about 4 or 5 months. I'm renting to own a 3/8 rodgers trio. In Febuary i will own it. At that time i would be interested in upgrading to a organ that is possibly larger and a little newer. If anybody knows about or owns an organ that they would like to rent or lease to me, I would love it if they would e-mail me. Thank You, Tyler Pattison
Tyler Pattison
Gig Harbor, WA USA -
---
Hi, this is a great site! Thank you for the time it takes to find and publish this information and share this interesting topic.
L Barton
Bellingham, WA USA -
---
This is my fourth year in the Gig Harbor area and I have been hearing about the pipeorgan concerts. It is a delight to find this awesome website and to learn the extent of your organization. Thanks!
Danna Webster

---
Beautiful website, Tom. Scott sent me here. I also share your love of these wonderful organs. Have enjoyed the programs I've gone to very much. Jean
Jean McClelland
Shoreline, WA USA -
---
Loved the site. So informational.
Nancy
USA -
---
Too bad the Organ Grinder is gone. It was one of my favorite things. If anyone has recordings, especially digitized recordings from the Organ Grinder, I would like to find some.
Mike Wilson
Salt Lake City, UT USA -
---
I am doing some preliminary research on finding grant support for silent film presentation for the Historic Everett Theater. Their commitment is great and they will have a huge program in the coming year, but HET needs some subsidy to continue exploring this great medium. Their theatre organ is in GREAT condition and Dennis James is house organist.
David Shaw
Everett, WA USA -
---
I will be visiting Ct. in September and would like to know more about the Concert at the Shelton High School by Andy Kasparian. Please email my sister at this address if you have any information about it. She lives in Danbury and we would like to attend. I play the organ and have retired and would like to get back into playing. Thank you for the information.
NELSON RODNEY
CHESTERTOWN, MD USA -
---
I have been researching movie theaters in Pocatello, and noticed you entry concerning the Strand theatre installations of 1923 and 1929 - surmising that possibly the Strand had two locations; it did not. The Strand opened on N Main in July 1909, and was in the same location until it closed in 1939, although there were six active theaters in the city during most of the time between 1923 and 1929.
Ray Carter
Las Cruces, NM USA -
---
Your website is fascinating. I found it by looking for Capitol Theatre, Vancouver. That is where, as a boy, I developed by interestin theatre organs. My folks used to take me to movies there, and between films was "Ivy Evans at the Wurlitzer". That early fascinating led to my taking pipe organ lessons, and to getting a Lowery Citation Theatre Organ for my home. I wondered what happened to the Wurlitzer at the Vancouver Capitol Theatre, but the website informs me of its purchaser. Do any of you remember Ivy Evans?
Ron Watts
Oakville, ON Canada -
---
Love your sight it brings back so many memories. My father is Buss McClelland he played the Pantages theatres in Wa. & CA.the Old Roller Bowl, Oaks Park and taught music up until his death in 1982 at age 81. I have books of cliping, & photos of where he played starting from appx 1918. After his death Don Simmons sent my mother a special tape of Dads music from when he play the radio station on Sundays at the Oaks Park(1950's) Sad to see all the household names I grew up with are now departed Don Simmons, Don Baker, Don Isham, Ed Zollamn, Dick Schrum and more. I have records Dad made in I think early 1950's on the Evergreen lable Seattle, Wa. for roller rinks. I would like to have them put on CD's does anyone know where I can do this. We attend the Silent Movies in Everett and enjoy Dennis James very much. I had no idea there was such a pipe organ fallowing. Thank You Libby McClelland
Libby McClelland
Edmonds, WA USA -
---
We have read in the Pipeline of your fun home parties. If we can't come to you, perhaps you'll come to us. Next week we are entertaining a theatre organ group who will be travelling together on a cruise ship. This is the third such group who has come to play our Wurlitzer pipe organ in Skagway, Alaska. Perhaps someone in your group would like to organize such an excursion for 2004. There are sometimes fantastic deals on the cruise ships for special interest groups. There is a Kimball in the State Office Building in Juneau which is played publicly each Friday noon. Groups can arrange ahead to play it at other times. We have more details if anyone is interested.
Fred M. Beeks
Skagway, Ak, AK USA -
---
Congradulations on a wonderful site! The best I have seen for Theatre Organs. I used to work for Sandy Balcom on Stoneway in Seattle (his electronic organ/piano store)in the service dept. Lou DuMoulin was one of the salsmen. I lived across Aurora Ave from the Rollerbowl and was in tears when it burned down with the wonderful organs inside. Will be in Seattle Aug9-23, 2003. Hope to see and hear some of the instalations. Now reside in San Diego and am a member of Theatre Organ Society of San Diego. Thanks again for the great site.
Bruce McGlothlin
San Diego, CA USA -
---
Fascinating website. You are to be congratulated. Have spent the last 90 minutes exploring organs, talent, and whatever that applies to theatre organs. I recall Dick Schrumm doing his "Martha" bit with Ben Hall at one of the national conventions. You've got a great chapter. Roy Sharp
roylance h sharp
sun city center, fl USA -
---
Enjoyed your website. I have a 360 Rogers in our newly built timber frame home. I am a playing member of the Detroit Theatre Organ Society (4/34W), and enjoy anything involving Theatre Organs.
Bob McIntosh
Exeter, Ont Canada -
---
Can anyone tell me if we'll have any trouble getting tickets at the door for this Monday's (July 7) Silent Movie at the Paramount? Also, it's very difficult to get information from the Paramount. - Doug
Doug Lewis
USA -
---
Looking for any type of organ concerts in the Tacoma area from July 24 to July 29, 2003. Will be in area for a wedding and sight-seeing. THANX
GARY T. GARDNER
SHIREMANSTOWN, PA USA -
---
I remeber frequneting the Granada Organ Loft for special organ concerts and the Friday and Saturday night silent movies with organ accompaniment. My grandfather, Bob Roach, a native of West Seattle loved attending whenever possible until it closed sometime in the 1970's. Anyone have an updted history of the Granada? I am also desperately looking to replace a long lost 33 rpm album by Gaylord Carter playing music from the Silent Movie Era: Burnt Orange Record jacket with a 16 mm frame of pictures from popular silent movies. Any information on how to obtain a replacement will be greatly appreciated.
Chris Callow
Bellingham, WA USA -
---
What a great site. I grew up a hockey fan in the Seattle area, and I always loved listening to Dick Schrumm at the Coliseum. I also remember the old Seattle Center Arena organ that was moved to the Food Circus. I have a website dedicated to the old Seattle Totems hockey club, and I'm wondering if anybody might have an mp3 or otherwise of Dick Schrumm playing the Perry Como classic, "Seattle"? I would love to put that on my website. If anyone can point me in the right direction, please email me. Thanks and kudos for a great website!
Louis Chirillo
Vancouver, BC Canada -
---
I used to work at the ruby theatre throughout high school. it was great finding this site, an interesting read. does gordon still run the theatre?
rebecca strand
carson city, NV USA -
---
hello-i am hoping to be moving up to bellingham this fall and was wondering if you had any suggestions for work in the theater, music industry. my interests are soundscapes and sound effects--i am not specifically trained on organ -though i have tackled most other instruments--any leads you might have would be greatly appreciated. thanks for your time, matthew
matthew cooper
ptld, or USA -
---
What a smashing site thouroughly enjoyed my first visit and will call again as there are too many goodies to take in all at once.
Alan C. Houghton
Gt. Britain -
---
Just searching the internet for the name McCarl to see what came up. There are alot of us out there !
Jim McCarl
Grove City, PA USA -
---
Dear Tom & PSTOS~ WOW! What a stellar site. I have "popped-in" from time-to-time to peruse. . .but never at length. It is comprehensive, historical, and very, VERY satisfying. I have been documenting the history of pipe organs in the State of WA. for 13 years now...and hope to do a site similar to yours. What a grand example. I have some supplemental information for you about a number of instruments listed on the site...and some older pictures of Bill Blunks instruments in Astoria. When I next get to a scanner I'll be sure to send them along. I do hope you'll post more specifications as time an inclination permit. With best wishes, I am remaining Sincerely Yours~ Jim S.
Jim Stettner
Seattle, WA USA -
---
I am interested in theatre organ music.
Daniel B. Pickett
Eastman, GA USA -
---
Would You want to react at my two e-mails)underneath), this is the right e-mail address: a.linders@wanadoo.nl
angelique
USA -
---
Hello, I'm looking for people who know something about the painter FOKKO TADAMA(1871-1937)who lived in Seattle, Washington? Please contact me?
angelique
USA -
---
Hello, I'm looking for people who have picture's of Puget Sound and other photo's of the Northwest in the period(1910-1937)? I'm from Holland and hope to find some images this way. Maby You can help me to send me a scan.
angelique
Holland, USA -
---
I loved going to the Organ Grinder in Vancouver. The food and the atmosphere was great. I wish it never left. Thank-You for allowing me to have an awesome experience.
Lorraine Morrow
Abbotsford, BC Canada -
---
I HAVE LIVED IN WENATCHEE MY WHOLE LIFE AND I NEVER NEW HOW OLD IT REALLY WAS THIS SITE SHOWED MA ALOT OF COOL NEW INFORMATION I CAN'T BELIVE HOW MUCH THIS OLD TOWN HAS CHANGED THANKS FOR SHOWING WENATCHEE AT IT'S BEST
jesica eagle
wenatchee, wa USA -
---
Great website; just stumbled upon it while trying to find out whether the Pizzz & Pipes Restaurant in Tacoma (at least as of the early 1990's) is still in business and whether the organ there is still being played. If not, does anyone know where that fantastic organ went to?Thanks, John Oberg jcoberg@shaw.ca Victoria, BC, Canada
John Oberg
Victoria, BC Cdn -
---
Years ago, in the mid-forties, my Dad danced in the Trianon Ballroom - lots. I'd like to find out more about the ballroom. Is the buiding still their? Can I get pictures? Any info would be appreciated. Thanks!
Gayla Oehmcke
Great Falls, MT USA -
---
Trying to track down a theatre that my grandfather Karl John Ertler owned in the early 1920s by Mt Tabor - Portland
Ryan Cook
Vancouver, WA USA -
---
Found your site and I spent two hours of enjoyment . I spent many enjoyable hours at the Organ Grinder in Portland, what a shame to destroy such a fine instrument. I love organ music and enjoy playing myself. Keep up the good work Keep these fine instruments alive and working because the sound majestic .
Dick Mosher
Bend, OR USA -
---
I am seeking a source of key-contact wire, possibly in a coil or spool. My organ is perhaps 50 years old and the contact wires are reaching end-of-life. Can anyone point me to a vendor? Thanks. Ken Galley
Ken Galley
Everett, Wa USA -
---
Me again. Last time was drain and remove piza & Pipes. Thought I would check up on what Jonas Did with it.
Stan Kapuscinski
University Place, WA USA -
---
I am looking for information about an old theatre in Portland OR the Sunnyside Theatre it is now called the Avalon.
Scott
Portland, OR USA -
---
I am very pleased to have located your site. I lived on Bainbridge Island for many years. I am a student and officianado of theater organ style. I own a 3 maunal Wurllitzer console organ as well as a large Lowrey console. I performed as a concert artist for a large organ company in the '80's. I enjoy your site very much. Keep up the good work!
Wayne Hess
Pocatello, ID USA -
---
Hey I really like your site. I have found some of the information here helpfull. Thanks :) Joe D.
Joe
Memphis, TN US -
---
Tom, I grew up in Centralia, Washington... I now live in California. I was looking for the Old Fox Theatre and happened upon your site. Thank you so much for the beautiful memories and pictures. Just lovely!
Penelope
CA USA -
---
If anyone knows of an available 3 manual double bolster theatre pipe organ console I'd like to know about it as I am interested in purchasing such an item. I'd like the bench and pedals also, but am not interested in pipes, chests, etc. Thanks and I enjoyed the web site.
DA Theurer
St. Louis, MO USA -
---
Interesting site, love the organ music :) Hope to check out a concert sometime...
Skateboard Girl
TN USA -
---
Great site tom i now live in the area and get asked about the old skate rink alot , seems alot of people have alot of memories in and about the old rink
Danny Devine
Redondo, wa USA -
---
I have a home organ available. It was purchased in 1975 and is in working order. There is no cost for the organ; you just have to pick it up. Reply at RestoreRHS@hotmail.com.
Andrea Wilson
Seattle, WA USA -
---
Hey,Tom: I read in Seattle's PI on friday that a guy in Bellingham bought an old church to convert into an artists studio, and found a theater organ there. He said it was the original organ from the Tacoma Pantages. I thought the Pantages Morton went to Everett. You know any more details about this?? Cheers, Glenn
Glenn White
Seattle, USA -
---
A very interesting and informative website.
David Reed
London, UK -
---
Great web site. Lots of history about the local enthusiasts along with all the when, where and how the organs moved through there various homes. How many locals remember the bright florescent dragon pained in Dick Chase's basement wall; or the late recording sessions done by Rodger Jenkins on our home organ, played by either Frank Butte or Charles Gray? I wonder how many can remember my dad's (Dave) neat little 2/4 Kimball installation in S.E. Portland… do you remember the bright red chambers? After my brother installed the small Kimball, few years later my Dad decided to purchase a larger 2/8 Kimball. This organ never was fully operational. At that time I was in my early twenties and I never wanted to see a theater pipe organ again. What a difference the aging process makes! I have had a theatre pipe organ playing in my home for the last 25 years. I have a 3/24 Kimball / Wurlitzer installed in my home and has been and continues to be a center of friendship and fun for all. Bob Markworth Omaha, NE
Bob Markworth
Omaha, NE USA -
---
Just happened upon the Pipeline Online page for my dad's (Ed Maas) 3/6 Wurlitzer. Dad sold the organ 5 or 6 years ago to a guy that planned to install it in a theatre in Dallas, Oregon. We have had no word on the status since the sale. Anyone who may know the status of the organ please email me. Thanks. Paul Maas.
Paul Maas
Puyallup, WA USA -
---
Its great to know that the theater organ is still alive. I hope that the theater organ has a lot more years left. It has great lush sounds.
casey houweling
surrey, B.C. USA -
---
I remember the Sunday Concerts at the Lincoln in Mount Vernon in the late twenties and early thirties...Mildred creese and Eddie Clifford. Both pros. Some more recent, not ready for prime time.
T.W. (Bill Turner)
anacortes, WA USA -
---
an old organ fan
Sally Pat
RI USA -
---
Does anyone know were you can perchase the recordings that Jonas Nordwall made at the portland organ grinder?
Robert Allen
richland, wa USA -
---
Very nice website, Tom. Love those old theatre organs!! Cheers!! Jean
Jean S. McClelland
Shoreline, WA USA -
---
Like your Webbsite. Buy the way our organ is a 3/13 with a style R reproducing player attached
Fred Beeks
Skagway, AK USA -
---
Tom; Superb website. I have never seen such a treasure of localized TO history so easy to find and in one spot! Great effort!
Tom DeLay
Salinas, Ca USA -
---
None
John S. Julian
Tukwila, WA USA -
---
I am a church organist in New York now. Was Director of music at First Congrational church one block north of the Paramount theater in Portland. My mother, Melba Clarke, nee Yost. played the Paramount organ many times from the 30's through the 50's.
George Clarke
Williamsville, NY USA -
---
On 9/14 I was at a garage sale in in Puyallup, and one had a Hammond Colonnade 200 Series organ. G-225 was the date on the back Foot pedals, light and storage bench included. Solid wood (mahogany, I think) How long's it been since anything was made of solid wood? As a piece of furniture, it appeared in excellent condition. I don't know how to test its organ qualities, nor was it hooked up. She was asking $900, but I bet if $750-$800 cash was waved in their face, it would get snatched right up. Call Sheri Davis 253-841-7266 I already told Bob White about this.
larry pratt
puyallup, wa USA -
---
Jack Becvar led me here and I'm glad I came.
ken simon
sequim, wa USA -
---
Denver Theator, State Theator Barton 3/13 Kalamazoo Michigan
Robert Kingsnorth
Sacromento, Ca USA -
---
Thanks for maintaining such a great website -- it's a wonderful tool for researching the great old theaters of the NW!
Lisa Lindstrom
Seattle, USA -
---
Hi. I've been commissioned by the city of Vancouver, B.C., to write the history of the Orpheum Theatre here. The theatre will be 75 in November. It still has the original Wurlitzer organ (although in some disrepair) it opened with, apparently the only theatre organ in Canada still in its original home. I'm writing hoping to clarify a statement by the late Ivan Ackery, the longtime (1935-1969) manager of the theatre, who says that when the Orpheum originally opened in 1927 there were THREE organs. This seems highly unlikely, but if someone out there can throw some light on this I'd be very grateful. Here's a quote from a booklet the Orpheum Circuit published in 1927 about the theatre's organ(s?): "One of the newest features to be built into a theatre is the console elevator lift, hydraulic type, electrically operated which raises and lowers the big three manual Wurlitzer organs when necessary." This may be referring to a "three-manual" organ, although there is no hyphen in the quote. But then note the plural of "organ." I have a hunch that "three manual" reference is what misled Ackery. The Orpheum's organ is classified as a 3/13 Wurlitzer, having three manuals and thirteen ranks of pipes. I'd love to hear from someone who knows this field better than I! Chuck Davis
Chuck Davis
vancouver, BC Canada -
---
I often search for theatre organ sites. I am a member of the Australian Theatre Ogan Society, and over the years many American organists have visited Australia, giving concerts on our various theatre organs. Thanks for your website, and kind regards to you all- Leigh Ward.
Leigh Ward
USA -
---
Help! I've recently learned that a local church has what is believed to be our theater's original organ and wants to get rid of it. We do not have the funding to move it to the theater. If anyone knows of a local society or someone who could get me in touch with someone in Texas or in particular, Central Texas that might help save our organ. For more information about our historic facility which was built in 1913 as a touring vaudeville theater. My thanks in advance for this wonderful website and I hope to hear from someone soon as this is an emergency! Sincerely, Jennifer Warren Director of Community Relations Waco Hippodrome Theater
Jennifer Warren
Waco, TX USA -
---
Just stumbled onto your site as I was surfing the web for pipe organs and organists (my favorites were Dick Liebert, Don Baker, Gaylord Carter and Jesse Crawford). I'm 74 now but when I was in my teens and stationed in Portland, Ore. while in the U.S.Navy, I skated many times at the Imperial rink and the Oak Park rink. The pipe organ is my favorite instrument (altho I play it poorly) and you can imagine how much I enjoyed the music while skating. I had the pleasure of knowing Cecil Teague both at the Imperial and at KOIN radio station. Blue Springs is next door east of Kansas City. Most of the many theatres are gone from K.C. now and I don't know if any remaining ones still have a pipe organ. I'll try to check around and let you know. I enjoyed your site very much, you helped bring back a flood of memories. I plan to visit your site often to see what's new. With kindest regards - - Bill 2002
Wm. C. Armstrong (Bill)
Blue Springs, MO USA -
---
I was thrilled to find your website. I'm a church organist & i proudly own 2 Conn organs. One is a Conn 314 & the other is a Conn Theatre Organ. I love all organs but Conn with always hold a special place in my heart. Thanks for the great website.
Richard J. White
W. Boylston, Ma. USA -
---
I am an Old Theator Orginest
Robert Kingsnorth
Sacromento, Ca USA -
---
Dear Folks, I'm not an organist but rather I play fingerstyle guitar in my free time (my influences being Leo Kottke and, Washington native, Ralph Towner, et al)and I wanted to inquire of the music of Ivan Ditmar. A few years back I heard his work on a nostalgia radio broadcast and thought him to be a rather clever composer, from what little I heard. I wonder, since his recordings are out of print, are there any recordings of his available to download? I learn most of my tunes by ear. Thanks for your time and for any help. Mike Lord, Chicago.
Mike Lord
Chicago, IL USA -
---
It's nice to see all the organs in homes near my area. I am 13 years old and I just bought a 6 rank, electro-pneumatic action. Even though these organs make my organ look like a little hammond or something. It's cool to look at all the other organs
Chris Kollar
gig harbor (near tacoma), Wa USA -
---
Kudos to a great Webmaster and to the WEBSITE! It is simply marvelous. Was checking for Wurlie installations in the area (found some great ones) and looked at Alaska, too. Found an old friend, the late Frank Butte, in Juneau. He later moved to Anchorage (KTVA-TV Chief Engineer) and later installed (and played) a Wurlitzer in a local Pizza Palace. It was moved to Fairbanks (Steak and Pipes) then elsewhere in Alaska, not certain where. It does not appear in listings. Anybody know where it went? Frank played marvelously and entertained at the hospital before his untimely death. Again, thanks for a wonderful visit and will be back many times in the future!
Robert W. Inman
Spokane, WA USA -
---
Just browsing looking for info. on my father Eddie Dunstedter.
Dodie (Dunstedter) Baehne
Placerville, Ca. USA -
---
Nice web site. Just an update on your 5th Av. organ information. The california owner had the organ for sale on e-bay recently. At the time I e-mailed the 5th Ave. people and told them they would be fools not to buy it back. The price that sticks in my mind was $40,000. They said they were aware of the sale and had gone down and seen the instrument and they wished they could but they couldn't afford it and they didn't have time to raise the money. They said it still had the original colors and they almost cried when they heard it. I told them that if they wsent to their board and indicated what a unique opportunity this represented I would bet their board would sign to raise the funds (based on my experience as a fundraising professional) and underwrite them so they could get a loan and get the instrument back. This isn't really that much money for that class of people. A once in a lifetime opportunity lost. Dan Warner
Dan Warner
Seattle, WA USA -
---
Absolute fantastic site! Very detailed. It shows that information is collected with love for these fabulous instruments and the ones that brought and still bring them to live. It's a shame that Holland only had a short history in the fabrication of theatreorgans (STANDAART ORGELS SCHIEDAM). There are some theatreorgans left in Holland and most of them under the loving care of the dutch organ federation ( N.O.F.) Who took it upon them to keep what little left here in a good and playable condition. Whenever in the states I will try to find a theatre with an organ just for old times sake and enjoy listening to that majestic sound.
Hans van der Vlist
Rotterdam, Holland -
---
Love Theatre Organs
Jacqueline Toscano
Palatine, IL USA -
---
i LOVE THEATOR ORGAN MUSIC
Duane Easton
Lakewood, wA USA -
---
Good job!
Jack & Betty Laffaw
Bellevue, WA USA -
---
Great site. Jo Ann & Russ, I have just looked at your 3/17 Wurlitzer. "Beaut".
Peter McQuie
Lower Templestowe, Vic AUSTRALIA -
---
was checking the Alaska installation site
Eva Beeks
Skagway, AK USA -
---
Wanted - 3 manual, double bolster Theatre pipe organ console in good condition. Price reasonable. If you have any leads, please reply via email. Thank you.
Bob R.
Beautiful, Pa. USA -
---
Excellent site. I am attemping to locate a Norman Miller. Distant relative of Freda Carpenter. with some genealogical knowledge of the Ashlock Sullins connections. IF your Norman Miller is the right one please have him contact me at rjbill@aol.com Thank You. Ron Billings a decendent of William Ashlock
Ron Billings
Louisville, KY USA -
---
My dad named:Norman L. Johnson, from Grenada, he was born in 1901,he had never get news from his relatives,brothers and sisters,please help me to comunicate with any one.
Eduardo Saint-Clair Johnson
Porto Velho, RO BRAZIL -
---
Overwhelmed by all the photos & information and history. Am a great fan of Wurlitzer carousel music and carousels. Thank you............
Donald R.Erck
Elk Grove, Ca USA -
---
So happy to see at last a site for real fans of those so wonderfull organs ! Thank you for your nice site ! Here in Europe, we have nothing (!) about these particular organs... Long life to you all.
Eric FOURNY
LIEGE, BELGIUM -
---
Can't tell you how much I enjoy your website. I was wondering if anyone can help me who visits this site. My mother was one of the dancers in The Merry Widow Revue, appearing March 8, 1928 at the theater. I am trying to locate photos and information regarding Frank Cambria and the Publix Paramont Stage Show. Please e-mail me if you have information or could advise me as to where I could find photos. Thank you and thanks for your great web site.
Valerie Beranek
Medford, NJ USA -
---
Great Site! I stumbled on it while looking for info on Don Isham's brother Jay (Frank) Who I knew well back in the middle to late 1970's. I used to care for his yard, and drive for him after he had his stroke. I even Met his Brother Don when he was visiting from California. Jay was quite a character, led a very interesting life. So did his brother don, who played organ not only in the spokane and Seattle areas but played in the silent moovie houses in Chicago in the 1920's
Ken House
Lind, Wa USA - Friday January 4, 2002 21:37 (PST)
---
Great Site! Nice to see I am still remembered in the Pacific Northwest after all these years. Thanks for the memories.
Andy Kasparian
Cherry Hill, NJ USA - Wednesday January 2, 2002 14:47 (PST)
---
I have Wurlitzer 4500 organ in excellent condition. I was just wondering if anyone knew what the value of this organ is. Thank you
Terry J. Malone
flint, mi USA - Tuesday December 25, 2001 20:09 (PST)
---
Hi; Nice site. Bob Arndt suggested I contact Rob Carlson for Artisan Stop tabs for my 2/9 Wurlitzer console. Would anyone have his email or mailing address? Thanks. Buzz
William M. Newton
Reeds Spring, MO USA - Friday December 21, 2001 07:32 (PST)
---
Good nice site!
Lammert Boeve
Nunspeet, Holland - Friday December 21, 2001 06:07 (PST)
---
Theatre organs are getting very hard to find public performances since the Pizza and Pipes, owned by Dick and Margarett Daubert of Tacoma,burned up in a fire. Hopefully Jonas Nordwall will use the pieces to put another one together in Northern Oregon.
Gary L. Everhart
Gig Harbor, WA USA - Monday December 10, 2001 16:29 (PST)
---
Great Christmas party!!!!
Max and Mary Carpenter
Bellevue, WA USA - Sunday December 2, 2001 18:57 (PST)
---
My home pipe organ you have listed has been expanded to 2/12 with an additional 32 pipe rank of pedal large scale Gambas. You have a great web page.
John Otterstedt
Portland, Or USA - Wednesday November 28, 2001 15:45 (PST)
---
Very interesting site! I stumbled upon it while trying to find out information about the movie theatre on Beacon Hill in Seattle, Washington (the organ from that theatre is in the collection on this site) Does anyone have any information on this theatre? I am particularly interested in where it was located, and when it closed.
Dan Langdon
seattle, WA USA - Monday November 26, 2001 14:36 (PST)
---
what a great site!!!!,Looking for a place to practice in the So.sound area,I played for 18yrs,have not played for over 20yrs, if anyone knows where I can, please contact me at Dozzerdon@excite.com Don
Don Hall
winlock, wa USA - Nice site
Lammert Boeve
Nunspeet, Holland - Thursday November 8, 2001 12:39 (PST)
---
Member of CROC and have really enjoyed some of the events hosted by PSTOS. Hope to get tickets to hear Jonas at the Johnson estate.
Gerald Jeli
Portland, Oregon USA - Sunday November 4, 2001 21:42 (PST)
---
I was looking for a recording of Irving Berlin's "when I lost you" and was directed to your site. Does anyone know if there exists a recording done on organ of this? Thank you.
paul galbraith
w.haverstraw, ny USA - Wednesday October 17, 2001 09:45 (PST)
---
Fine site and good p;ictures. The young picture of Gordon Kibbee was nice to see as I met him in his 70's and had the pleasure of studying with him privately and in class rooms for many years. I play a Hammond RT-3 (Concert Model - 32 note pedalboard and a Leslie.
George & Dottie Sprotte
Kalispell, MT USA - Tuesday October 9, 2001 12:54 (PST)
---
Coming to Seattle in 2001 and will look up for some concerts. Very interesting site. Some day will read the whole thing.
Paul W Albert
Erie, Pa USA - Wednesday September 26, 2001 09:48 (PST)
---
I am a "lay" admirer of the great theater organs. This is a great site. Not on the scale of these grand old beauties, but I have a small 1910 Estay I would like to sell. While it is playable and needs a bit of mechanical refurbishing, the cabinet is stunning and the keys and pulls are in good condition. If anyone can help me value it I would appreciate the help.
Georgia Carroll
Houston, TX USA - Saturday September 8, 2001 21:22 (PST)
---
I have been searching the web info on Estay Pianos (Upright, New York, early 1900,s). P.S. Nice Web site.
Miles
Quail Valley, CA USA - Wednesday August 29, 2001 00:01 (PST)
---
Very well done web site! Please contact me if any one has black & white, professional-quality photos of on-stage productions that are not copywrited. These photos will be scanned and used in a project that is being designed to benefit non-profit foundations that support educating disadvantaged youth in the performing arts. The images will be returned once they are scanned. Of course, photo credit will be given and acknowledged. I'd love to hear from you and share your images! Thank you for considering this. --Debra Marshall
Debra Marshall
San Diego, CA USA - Monday August 27, 2001 13:44 (PST)
---
Just wanted to let anyone interested know that the George Montalba mystery has been SOLVED!!! A gentleman in New York began researching the whole story after hearing an album last year. He dispelled all of the myths and found... my father, Robert Hunter. He lives in California and his health is failing terribly. Fortunately, Mr. Mullins has a record company and he has decided to re-release all of my fathers albums under his real name. Ths first one is due out by November. He has had Anton LeVay's daughter writing of her fathers life and lies to end that theory and has David Kelzberg working on this project as well. He will end up with 16 pages of the story and the unimaginable career of my father! PLEASE HELP TO END THE MYSTERY! My father was a very normal, humble genious. Wait till you hear his story! You will be impressed! Caroline Johnson
Caroline Johnson
VA USA - Sunday August 26, 2001 13:36 (PST)
---
I am doing research on Hippodrome theaters. I am the Community Relations Director at the Waco(TX) Hippodrome Theater. We are 88 yrs old and the theater used to have a pipe organ. If there is anyone out here that has photos or documents concerning our theater, please contact me at boxofficewpac@texnet.net. I am also in search of any records concerning Thomas Lamb, the original architect of Hippodrome theaters. Love your site! Please visit ours at www.wacohippodrome.com!-Jenn
Jennifer Warren
Waco, TX USA - Thursday August 23, 2001 23:03 (PST)
---
Excellent site. Got it in my favorites. Long live the Wurli!
Chris
USA - Saturday August 18, 2001 14:43 (PST)
---
happy to find this site and happy to know another theater organ has been saved and restored. I am working on aa Artisan project re-doing an old Rodgers theater organ with new digital voices from Artisan.
HARRY HUDSON,JR
TROUTVILLE, va USA - Monday August 13, 2001 08:22 (PST)
---
Fabulous site!!
Mark Renwick
Jacksonville, FL USA - Monday August 6, 2001 19:45 (PST)
---
Truly the Mother Lode of theatre organ websites. A pleasure poring over your features.
Roy Sharp
Sun City Center, FL USA - Thursday August 2, 2001 13:15 (PST)
---
Fabulous site, i never realised that so many american theatres were equipped with organs, makes us in the UK really small fry when it comes to theatre organs. With kind regards Andy Garner
Andy Garner
United Kingdom - Wednesday July 25, 2001 13:58 (PST)
---
What memories! I was a engineer at radio station KOIN in the Heathmen Hotel 1943-'47. Have heard the Paramount Organ, the last time was during WWll - Mrs Minivar- was showing! Also the Broadway and Orpheum. Saw Joe E. Brown on stage in "Harvey, the Invisible Rabbit!". Now use that as my E-Mail sig! The Heathman had a pipe organ; but KOIN, (the notation on another page was in error) had a Hammond with a 6ft. tall Leslie. There was a staff orchestra of about six members who also played for KALE located in the same studios. Francis Posy,(sp?,)played the harp. Cannot recall who played the organ; had to keep the mike away from him as his jokes were a bit .....! I roomed in the old Heathman. Later had a house way out off Sandy. The station shut down at mid-night; the last Sandy bus was 12:30 AM at 5th and Stark! Had to run all those blocks (10?) to catch it! "Those were the days my friend ..." but they did end! Harvey, the (invisible rabbit).
Harvey DeGering
Sutherlin, OR USA - Tuesday July 24, 2001 13:34 (PST)
---
Thanks Tom. Your site has reconnected me to my past with organs. As a boy I studied under your noted organist Dick Kimball. Those days at Tom Hobbs Holiday music and Greenwood P&P are fond memories. After a hiatus of many, many years I am finally climbing back to the bench. Expect my PSTOS membership soon. It would be nice to have the members recommend a coach that would provide much needed refresher lessons. I promise more practice this time around ;) Best Wishes
Les VanHorn
Ellensburg, WA USA - Sunday July 22, 2001 12:20:00 (PST)
---
You have one of the best, perhaps "The Best" web sites in the ATOS, I have spent many hours going through it and it's interconnected sites. When I need to know something as I do tonight, yours is the first place I go. Nine times out of ten I find what I'm looking for. Keep up the good work!! Paul
Paul Grant
Racine, WI USA - Thursday June 28, 2001 18:26:00 (PST)
---
This is a super site. Congratulations! I am Bob Jones, a charter member of both ATOS and PSTOS. Age 86, still playing organ, but don't get around as much as before. I had a 4/22 Hybrid Robert Morton. It started out in 1948 when I bought it as a 3/11 located in Young Men's Hebrew Association Auditorium in New York City.I shipped it out here via Railroad boxcar.In 1951 I commenced adding the additional 11 ranks and had parts from several different makes. I sold it in 1973 and found out later it had been resold for parts. I am organist for the Richmond Highlands Baptist Church at 19350 Firland Way N., Shoreline, WA 98133. I play for the Sunday Morning worship services using a Gulbransen Rialton, Model K with Leslie Speaker.I commence playing at 10:35 AM. If you visit be sure to make yourself known to me.
Bob Jones
Edmonds, Wa USA - Thursday June 21, 2001 19:51:00 (PST)
---
Great website, looks like a lot of fun and a great bunch of people
Bob Busby
Medford, OR USA - Thursday May 31, 2001 08:28:00 (PST)
---
Beautiful effort. Web site is truly extrordinary. I have a 2-10 Wurlitzer installed in my home and since my husband died, no one plays it -- how sad.
Fran Solberg
Olympia, WA USA - Tuesday May 29, 2001 21:06:00 (PST)
---
Previous member of ATOS. Moving to HoodRiver OR this July. Will join PSTOS at that time.
Donald & Joyce Paulson
Lakeland, FL USA33804 - Sunday May 27, 2001 06:13:00 (PST)
---
Enjoyed your excellent site which I found by doing a search for Walter Strony , a friens who lives near me in the Valley. Keep up the good work. I'll check back frequebtly. Thanks, Charlie. W7KB.
Charlie Mulkin
Scottsdale, AZ USA - Saturday May 19, 2001 08:04:00 (PST)
---
Keep up the good work.
Terry Parr
Indianapolis, In USA - Tuesday May 15, 2001 15:29:00 (PST)
---
Very nice Web site,I have 2 Estay and 1 Dyer Bros. pump organs from the 1800s that I got at auction,FOR SALE. If you or anyone checking your site have any intrest in these please call for info. 360-574-2752 or email me. $100.00 for all of them,very restoreable. Thank You Rich.
Richard Stricker
Vancouver, Wa. USA - Tuesday May 15, 2001 12:31:00 (PST)
---
I have been an organ enthusiast since 1956. I would like to find a list of pizza parlors with theater organs in the northwest.
Mike Brown
Sprague River, OR USA - Wednesday May 9, 2001 07:31:00 (PST)
---
Tom, Jo Ann, & Russ; Great Site!!! You Must Make a Trip to Fairbanks and Research UAF Archives!!! In Alaskaland there's an old "Pantages Theater" next to the "Palace Saloon"; The Downtown Rexall CO-OP Store was Originally the "EMPRESS THEATER"/ DEPT. STORE...now converted into mini-mall.
Wm.J.Martin-Huru
Fairbanks, Ak USA - Tuesday April 24, 2001 22:38:00 (PST)
---
No comment really.... I just happened upon this site and found it very interesting!
Summer Hudson
Portland, OR USA - Saturday April 21, 2001 10:08:00 (PST)
---
I plan to retire to Spokane. Would someone tell me what I need to do to join PSTOS now? I am current a member of Wanamaker, LATOS, YUMA, and Secretary of VTOS as well as National. Thanks, Dale
DALE E CAPLIN
Tucson, AZ USA - Friday April 6, 2001 06:35:00 (PST)
---
I will be visiting your NW area in July as part of the Theatre Histrorical Society's annual Conclave. Really looking forward to seeing some of these wonderful old theaters and their wonderful old organs!
Karen Colizzi Noonan
Geneva, NY USA - Friday April 6, 2001 02:31:00 (PST)
---
Very nice web site. I enjoyed my visit.
Daniel R. Engle
Montoursville, Pa USA - Thursday March 22, 2001 09:18:00 (PST)
---
I met Glen Goff once when I was in high school. He was playing a Hammond in the California Missions building at the 1939 World Fair on Treasure Island. He was most gracious to a "kid".
Rev. David VonRotz
Castro Valley, CA USA - Thursday March 22, 2001 09:18:00 (PST)
---
I have found a site that I can really enjoy, study and know other people with the same intrest.
William B. Noel Jr.
Sanford, FL USA - Thursday March 22, 2001 09:18:00 (PST)
---
This site is one of the most enjoyable experiences I have had on-line. I grew up going to Rose City Park UMC, just up the road from the Hollywood Theatre, where there is an extrodinary organ and in my travels I always go out of my way to visit organs. Last spring, I had the pleasure of hearing the organs in both Notre Dame and Westminster Cathedral. Thanks for the treat, this is a wonderful site and sight.
Shannon McCarl
portland, OR USA - Thursday March 22, 2001 09:18:00 (PST)
---
Very nice web site. Our LATOS newsletter for April (Organ Log) mentions your web site and the earthquake damage report. Keith Baldwin
Keith V. Baldwin
Burbank, CA USA - Friday March 16, 2001 11:46:00 (PST)
---
I've always had an interest in pipe organs, rink organs, theatre organs and municipal organs in particular. I spent my free Saturdays between 1974-1982 on a crew helping to restore a Wurlitzer 260 Special in Cincinnati's Emery Theatre. I understand it's been dismantled again. It was the former RKO Albee organ. During the latter part of that time I also did extensive experimenting with flue pipe construction and wrote "The Acoustical Consultant" column in Theatre Organ magazine. See my website for more details, as well as fft/wav samples of several of my pipe designs, some short videos and the patents which followed.
Richard Weisenberger
Paducah, KY USA - Tuesday, March 13, 2001 at 12:37:12 (EST)
---
Tom Your site gets even better every time we look at it-- which is often. It has more information and better pics than any TO site available so far! Wonderful work! Thanks for all the time and work you put into making it so! Jen
Jen
USA - Saturday, March 10, 2001 at 09:25:17 (EST)
---
Great site. I visited looking for earthquake news some of which was listed.
Rudolph Frey
San Francisco, CA USA - Sunday, March 04, 2001 at 16:36:03 (EST)
---
One of the finest websites I've had the pleasure of exploring. Keep up the good work!
Roy Sharp
Sun City Center, FL USA - Friday, March 02, 2001 at 16:39:08 (EST)
---
Found out about this website from Russ Evans. Very impressive and I intend to spend some time going through everything. This should be an example for all websites! Excellent!!
René A. Marceau
Portland, OR USA - Wednesday, January 31, 2001 at 22:24:45 (EST)
---
Particularly like the Pipeline news and think the editor is doing an outstanding job.
Jack/Char Crawford
Kenmore, WA USA - Thursday, January 11, 2001 at 13:22:54 (EST)
---
My curiosity about the Sherman Clay & Company organ I acquired today led me to your website. I moved to the Puget Sound area in 1997 and I had no idea there were such wonderful theatre instruments in this area. Thank you PSTOS!
Mr D
Bothell, WA USA - Sunday, December 31, 2000 at 05:20:49 (EST)
---
Looking for recordings by Jim Roseveare. I own the TRIBUTE CD and am very impressed with the late Mr. Roseveare's playing. Any info appreciated! FYI...The Tribute CD is outstanding, a must-have for anyone who loves the theatre organ!
Hal Ross
Chgo, IL USA - Thursday, December 28, 2000 at 21:24:21 (EST)
---
Great Web Site! I am looking for a 3 manual/ 8 + ranks Theatre organ for sale. If you know of any for sale please drop me an email. Thank you so much.
bob r.
USA - Wednesday, December 20, 2000 at 18:48:53 (EST)
---
Classe ! ***** What an excellent piece of web design and content, this website "ranks" as the most thoughtfully presented website to browse through. I had an much unexpected bonus with finding the 4/16 Robert Morten stoptab specification used by Eddie Dunstedter. My best regards to all members of the PSTOS for their excellent work. Bob Sumsion.
Robert Barry Sumsion
Chipping Norton, England (GB) - Tuesday, December 12, 2000 at 06:24:02 (EST)
---
I am very sorry to hear of the death of Gaylord Carter. I remember him playing for a number of radio programs in the '40's and '50's. He really was an icon within his musical profession. Doug Vernon Moving Image Archives San Diego Aerospace Museum
Doug Vernon
San Diego, ca USA - Friday, December 08, 2000 at 17:20:20 (EST)
---
GREAT WEBSITE. THE CHAPTER CAN BE PROUD OF THE WORK DONE ON THIS PROJECT!!!! LES LEHNE
Les Lehne
OLYMPIA, WA USA - Monday, December 04, 2000 at 16:51:34 (EST)
---
I have a model 4500 Wurlitzer organ purchased in 1964. It is out of tune although in excellent condition. I'm unable to find ayone in this area to tune it for me. Can you give me the name of someone in this area?
Richard Seeds
Ft. Worth, TX USA - Monday, December 04, 2000 at 14:28:23 (EST)
---
Just stumbled across your site today -- was highly impressed. Thanks for the effort. Also, hello to any of my friends remaining out there from the days I whomped the dickens out of the Wurli's at Greenwood and Bellevue P & P, if any of you are still alive to remember. I am (still alive and kicking, that is) in southwestern Oklahoma, building both pipe, digital, and mixed breed organs. Hope to get back there one day and visit with you all. Blessed be, Tom Cotner
Tom Cotner
Martha, OK USA - Thursday, November 23, 2000 at 09:29:00 (EST)
---
I moved the Harvey Dick Fotoplayer not once but twice. It was sold to one friend of mine at an auction in Phoenix then to another friend in Pasadena where it has been restored. Anyone interested in 35mm movie equipment?
Professor Hall
Tucson, AZ USA - Saturday, November 18, 2000 at 21:50:23 (EST)
---
I too found this site by accident, but how ironic! Your organ of the week is the ONLY one I ever had the chance to hear in an original theater surrounding in the late 1960's. Portland has lost almost all of the palaces, and the few moderate ones that remain divested themselves of pipe organs a long time back. The two pizza parlor theater organs of the area are gone. In the years since I heard the mighty Oriental Wurlitzer accompaniment to "Phantom of the Opera" by Glen Shelley, I worked in many of Portland's theaters, such as the Orpheum, Fox, Music Box, and classic theaters The Guild and The Cinemagic. I learned the histories of each, and even climbed down itno the empty organ elevator loft of the Orpheum many times. I am attempting to find if the 1926 Morton organ is up and playing yet at an old 1911 church in Ashland, Oregon. I have a small theater built into my basement, with box office, lobby with snack bar, and auditorium with footlights and curtains. But more often than not, it is not a movie I am showing. It is ORGAN MUSIC, either from a small collection of CD's, or two radio programs available here, "Age of the Organ" and "Pipe Dreams." I can listen for hours, with my head tilted back to a golden ceiling, harkening back to the sounds of an earlier era...when the theater was a magical place to visit...and the movies were almost incidental! If anyone knows of CD recordings of the Oriental Theater pipe organ, please email me. I would like to find a way to incorporate it into a year-long exhibit that the Oregon Historical Society plans to open next April on early 20th century theaters of Portland, to which I am adding some of my historical photo collection, artifacts, and stories. I think the sounds would be a great addition too!
Steve Stone
Portland, Or USA - Friday, November 03, 2000 at 01:25:20 (EST)
---
A friend of mine gave me the link to your site. What a wonderful discovery!! Memories of my childhood have come flooding back. To see a story about the organ in Newport formerly owned by Dick and Mary Pitts was great!! I played this organ frequently as a young student and remember many hours of enjoyment as Dick and Mary would listen as I played. I had heard that Mary sold the house and I'm was concerned for the organ. I'm so glad it was sold to an organ enthusiast!!
Mark Bittler
Everett, WA USA - Tuesday, October 17, 2000 at 09:41:04 (EDT)
---
I enjoyed this site very much. I ahve lived in Seattle most of my life, and have seen and heard quite a few of the organs around here. I have just re-joined the ATOS after a long lapse.
Glenn White
Seattle, WA USA - Thursday, October 12, 2000 at 14:28:04 (EDT)
---
I have a CONN THEATER 640 Organ. Its in oustanding condition. I need some help finding out how much this organ is worth. I will be selling it soon. Please message me if you have any information. Thank You
Jim Hansen
oak harbor, wa USA - Monday, October 02, 2000 at 02:39:33 (EDT)
---
If their was a better place to go out on a Friday evening with your family in Portland than the Oregon Grinder, I can't think of any! What a wonderful place -- even in its later years.
Jeff Guterman
Allegany, NY USA - Tuesday, September 19, 2000 at 14:16:14 (EDT)
---
Hi, Tom Blackwell. Glad to se you are still involved with pipe organs.
John Dapolito
La Mesa, CA USA - Sunday, September 03, 2000 at 22:08:16 (EDT)
---
Hooray for Tom Blackwell and PSTOS!
Diane Whipple
Auburn, WA USA - Monday, August 28, 2000 at 17:24:29 (EDT)
---
Outstanding Website.
Glenn Churches
Sacramento, CA USA - Monday, August 28, 2000 at 00:06:16 (EDT)
---
I would like find out more info about your society
brian j stanely
tacoma, wa USA - Tuesday, August 22, 2000 at 00:49:19 (EDT)
---
I built in SF Bay Area from 67 to 70 for William E. Baker. Got to see the W at the Silver Ave Theatre in S SF., through a friend Edward Millington Stout. Nice clean site, so unlike my workshop! Paddy
Paddy Armstrong
Ashlsnd, OR USA - Wednesday, August 09, 2000 at 17:49:28 (EDT)
---
Fox article was interesting
John Carter
Spokane, WA USA - Saturday, July 29, 2000 at 02:38:57 (EDT)
---
My mother, Elsie Wallace,was Oliver Wallace's cousin. She knew him when he lived in Seattle. Would like to hear from anyone who knew him or performed with him
Doris Carlson
Coeur d'Alene, Id USA - Friday, July 21, 2000 at 21:32:21 (EDT)
---
I own a Rodger 323 Trio Theater Organ. How would I find buyers for this instrument?
Lucille Schimel
Auburn, WA USA - Tuesday, July 18, 2000 at 16:12:26 (EDT)
---
I enjoyed visiting this site very much. I have fond memories of earlier years when I was involved in saving a few Threatre Organs myself. I am glad to see so many instruments still being saved.
Ron McDonald
Blanding, ut USA - Wednesday, July 05, 2000 at 00:21:23 (EDT)
---
rOBERTmORTON pIPE ORGAN IS ORSALEPLEASE PUT ME IN CONTACT WITH TERRY rOBSON i'VE LOST HISeMAL ADDEESS pHONENMBER (503)639-590 tHANKS
r.eUGENgISBRECHT,.d
TGAD oREGON, or USA - Tuesday, July 04, 2000 at 23:33:21 (EDT)
---
aaaaaaaa
william dobrick
cypress, ca USA - Saturday, June 24, 2000 at 01:26:39 (EDT)
---
Are there any easily obtainable CDs featuring theater organs out there somewhere?
Don Thorndike
Everett, WA USA - Monday, June 19, 2000 at 20:31:39 (EDT)
---
Own Rodgers Theatre Organ 33 E
Fred Doerflein
Bothell, WA USA - Monday, June 12, 2000 at 01:43:19 (EDT)
---
Was checking your parts ads. We need small Robert-Morton regulators. Thank you.
John McConnel
Okmulgee, OK USA - Friday, June 09, 2000 at 23:03:14 (EDT)
---
I grew up in the Tacoma area and my family--immediate and extended--were regulars at Pizza and Pipes. I was devastated to hear it had burned. It was like losing a childhood friend you didn't even know was sick. It wasn't just a place, it was a major part of my childhood. So many important--and so many just for fun--childhood events took place there. It's truely like losing a dear friend. I am so sorry my children will never hear their names called out and have "Happy Birthday" played for them on the organ. They'll never see the pipe room or the marionettes dancing on the wall. I want to thank everyone involved with Pizza and Pipes in Tacoma. I am truely in your debt. I am a better person for having been there, believe it or not. I still get misty when I think about it, the pictures are devastating, but know that even pizza can touch someone's life, and Pizza and Pipes touched mine. In ways I never would have suspected until it was too late to thank you.Thank You.
Kerri Sims
USA - Tuesday, May 30, 2000 at 02:40:49 (EDT)
---
my son and his girlfriend live in kent.they both were in theater while in high school 4 years. i hope they will visit your establishment and get re-accquainted with theater.
dorr bundy
las vegas, nv USA - Friday, May 19, 2000 at 20:27:34 (EDT)
---
Just found this website by accident. WOW! I wish I had located it sooner. I retired a couple years ago from the electronic organ repair business, but still work one day a week. Pipe organs have interested me since I was a kid in Spokane in the 30's & 40's I well remember the first pipe organ I heard was the studio organ in Radis Station KHQ. Keep up the great work. I will be visiting often!
Warren Axtell
Seattle, WA USA - Friday, May 19, 2000 at 17:55:39 (EDT)
---
It is great to see that theatre pipe organ is alive and well in the Pacific Northwest despite losing most of the old theatres and all of the pizza parlors.In trips to the Pacific Northwest years ago, I heard organists play at the Organ Grinder and at all three Pizza and Pipes restaurants. In 1995, I attended the Portland regional convention.
Diane Davis
Santa Barbara, CA USA - Sunday, April 30, 2000 at 21:44:13 (EDT)
---
INFORMATION PAUL QUARINO
paolo quarino
GENOVA, IT - Friday, April 28, 2000 at 08:41:15 (EDT)
---
Thanks to Tom and PSTOS for this marvelous website. The Seattle area isa great place to visit and I look forward to the next time I get out that way.We are starting our Chicago area website and stop by here regularly forinspiration and new ideas. Keep up the good work
Jon C. Habermaas
Chicago, Il USA - Friday, April 21, 2000 at 02:42:47 (EDT)
---
Wow-what a magnificent site!.First I eat my words entered to your visitors book last night and have to tell you I have spent about the last hour meandering through the rich diversity of theatre,organ console pictures & historical noteswhich make this one of,if not THE best T/O site I have ever seen.You may be pleased to know that I found it thanks to one of our members postong a link which I shall urge all members to view.Thankyou & congratulations RJP
R.JamesPatrick
Gold Coast, Qld Australia - Tuesday, April 11, 2000 at 03:56:54 (EDT)
---
Having only discovered the site,it carries a lot of good detail but members of TOP&F club,& most I think,lustto see console pictures -that's the bit of the instrument the artist plays & the fans see,& I havn't found them yet.RJP
R.James Patrick
Gold Coast, Qld Australia - Monday, April 10, 2000 at 05:19:27 (EDT)
---
Tom: There's sure a lot of wonderful stuff here. I could spend the rest of my life looking at everything. Your work on this is exceptionally noteworthy.
Dave Schutt
San Jose, CA USA - Thursday, April 06, 2000 at 18:43:52 (EDT)
---
Thanks for all the history and information about American Theater Organs which which your website has afforded me . Keith
Keith Wood
McMinnville, OR USA - Thursday, April 06, 2000 at 13:20:50 (EDT)
---
I was very interested in my name in America. I find your name the same as my name on Internet. Maybe you can send my a message back. Many greatings from Peter van Lobberegt from Holland.
Peter van Lobberegt
Zwaag, Holland - Wednesday, March 22, 2000 at 14:28:46 (EST)
---
Informative site! Truly enjoyed Pizza and Pipes through the years. Wonderful place to take your kids. Best wishes to all who worked there....
Christine Larsen
Port Orchard, WA USA - Sunday, March 12, 2000 at 04:15:44 (EST)
---
Greetings, what a wonderful site. I'm looking for some info on Conn651. If you have any old brochures or know of a website, please let me know. Thank you all again. Jerry
Jerry Uecker
Artesian, SD USA - Sunday, February 20, 2000 at 14:22:42 (EST)
---
No mention of the 3/17 WurliTzer that used to be in Bellevue nr. Seattle. It's now in a theme park in Idaho - which is still Puget Sound according to ATOS.
George Howard
edmonron, alberta canada - Sunday, February 20, 2000 at 13:33:21 (EST)
---
Installed RbertMortonpipe orga I have buil a MIDi retofit which doeses great ith ComplexClasial music cassical music ,which I am incapble o playinsic Our home will be forale soon Ithas a pectacular view of Mthood f interested wrte an E-Mai or phe 503 5395970 Reason fo sale is at age 58 Ibhad a massie sroke and am ncapl of keeing p the organ or house or yardthee pipe orgn s of129 vintage
REugene Giesbrecht
Tigard, OR USA - Wednesday, February 09, 2000 at 00:45:36 (EST)
---
Great website! Is there a list of other reginal Theatre Organ Societies? Is there a national society? Thank you Michael
Michael S. Law
Seattle, WA USA - Tuesday, February 08, 2000 at 17:48:11 (EST)
---
I have a SERIOUS NEED to play theater organs again, now that I'm not at Pizza and Pipes anymore. How do I become a member of the Society, and when and where can I give a concert??????? (or even just find an organ to play on for a couple of hours) Sharon Stearnes 4616 35th Ave. Ct NW Gig Harbor, WA 98335 #253-851-1139
Sharon Stearnes
Gig Harbor, WA USA - Sunday, January 30, 2000 at 03:09:40 (EST)
---
A really nice web site.....
Stan Guy
Dallas, TX USA - Friday, January 28, 2000 at 13:46:47 (EST)
---
This website is excellent. Tom has done a wonderful job. I just wish I had found this site a lot sooner. I found out numerous pictures and info that I had no idea even existed on the internet. Keep up the good work Tom!!!!
Rudy Bohm
Sherwood, OR USA - Thursday, January 27, 2000 at 12:11:17 (EST)
---
Yes, I am alive and well. My home Wutlitzer "Digital Pipes" is sounding great after a few years of idleness. The newly added post horn adds a nice bit of punch which was lacking. Now at 8 ranks, xylophone and 12 traps it is fun to play. I would like to extend an invitation to anyone wishing to play it and offer comments as I do some final tonal adjustments. Just email ne with your request. I also need services of someone who can properly adjust the 2nd touch on the solo. Accomp is OK but solo is not usable at this time. let me know the cost for a half a day or so to adjust it. Patrick Lajko West Seattle
Patrick Lajko
Seattle, WA USA - Thursday, January 20, 2000 at 23:29:19 (EST)
---
Pretty impressive .. will visit again. Do you have any Rodgers 360 owners in your area .. would love to make contact as I own an enhanced 360 used in conjunction with 110x ranks of samples via Kurzweil
Ron Pearcy
Napier, New Zealand - Thursday, January 20, 2000 at 23:20:22 (EST)
---
Thankyou for udated tha page on my daugher, JoyceMorrison! Your Web site is looking good. Keep up the excellent job. Bill
Bill Morrison
Marysville, WA USA - Monday, January 17, 2000 at 17:31:14 (EST)
---
Excellent site, informative, and good art-work.Keep warm up there and......Happy music to everyone!
Rick Veague
Waldron, In. USA - Monday, January 17, 2000 at 13:51:52 (EST)
---
This is one of the best pages I have ever seen, the graphics and design are excellent. The software works great too.Could you tell me who the artist of the pstos logois and how I could contact them about some artwok for me?Thanks, pszymkowski@excite.com
Paul
Dolton, il USA - Saturday, January 15, 2000 at 00:41:59 (EST)
---
Your website is very attractive and contains much interesting material. I'm a member of the Central Indiana Chapter and heard Donna Parker in November of this year. She's more than just another organist! She's terrific!
George Morgan
Clarksburg, in USA - Wednesday, January 12, 2000 at 22:17:41 (EST)
---
So you have a discography for Donna Parker?
Mark Keillor
Greensburg, IN USA - Tuesday, January 11, 2000 at 15:46:32 (EST)
---
We didn't buy season tickets to the plays this year and have regretted it deeply. please keep us in mind for next year.
Sherry Handy
sunnyside, wa USA - Friday, January 07, 2000 at 08:33:09 (EST)
---
MEMBER OF HOUSTON AREA THEATRE ORGAN SOCIETY.
ED CAROTHERS
HOUSTON, TX USA - Wednesday, December 29, 1999 at 21:57:27 (EST)
---
Website looks great!
Richard & Diana Brown
Edmonds, WA USA - Saturday, December 25, 1999 at 16:56:42 (EST)
---
We will be in Seattle 12/22 until 12/29 staying with my son's family just off 105th on Stone Ave. Hope to play Haller Lake instrument as I have the last two visits. I'll have my quarters ready.
Gary Coller
West Lawn, PA USA - Tuesday, December 14, 1999 at 23:06:57 (EST)
---
Amazing! Thanks for a great job. We will be able to tell our friends around the world how to find out more about the fire as we write them our Christmas greeting. Dick hasn't seen it yet, but I will have it look at it as soon as he gets home from his breakfast meeting.
Margaret Daubert
Tacoma, WA USA - Friday, December 10, 1999 at 11:18:29 (EST)
---
A great site.
Wayne Hansen
Guemes Island, WA USA - Wednesday, December 08, 1999 at 21:45:53 (EST)
---
Its Neat
Jack and Mary Lou Becvar
Kent, , WA USA - Tuesday, December 07, 1999 at 21:37:39 (EST)
---
I'm a former member and owned the Wicks Organ from the Beacon Hill Theatre.
Neal Wood
San francisco, CA USA - Saturday, November 20, 1999 at 18:33:01 (EST)
---
I really like the new look--the colorization and the logo, complete with marquee lights is wonderful! Thanks, Tom and all the others who have worked so hard on this project. I look forward to seeing future developments!
Dan Johansson
Seattle, Wa USA - Sunday, November 14, 1999 at 14:18:39 (EST)
---
GREAT WEB SITE - I have spent hours enjoying the information you have provided. I was a pstos member in the 70's and played all the Pizza and Pipes organs in the area as a Teenager. I am sad to here that they are all now closed. Are there any Restaurants with Organs still open in Washington or Oregon?
Lynn Mordick
Rochester, Wa. USA - Sunday, November 07, 1999 at 01:39:30 (EST)
---
Dear all, Many thanks for including the Robert-Morton at Boise, Idaho. I was lucky enough to visit the Egyptian Theatre in May 1999 and meet Mr Doug Lemmon after a B&W movie show. I was working on business in Boise at the time and managed to finish early to catch the end of the concert as I was due to fly out next morning.It's brought back many happy memories of my visit to the Theatre(er), especially as some of my pictures didn't develop too well! Hi to Doug and all those I met during my 10 day visit to Idaho!Best wishes,ChrisC.
Chris Cartwright
Stoke-on-Trent, UK - Wednesday, October 13, 1999 at 18:45:29 (EDT)
---
First of all, allow me to jump on the bandwagon and congradulate all that helped create this website. It is THE place to go for those of us without a "Wurtil-izer" lurking beneath the threshold. Allow me to give my heartfelt thanks to all that came to "One Big Weekend," and I am responding with "One Big Thank You" as I sincerely appreciate all of your compliments and encouragement! I hope we can do this again very soon, I thouroughly enjoyed playing Mr. Becvar's Wurlitzer 3/16 and meeting other members personally, some for the first time. Again, thanks for having me play as a part of OBWVI and I look forward to the next gig! See you at Hokum Hall real soon; Eric.
Eric J. Shoemaker
Lakewood, WA USA - Friday, September 17, 1999 at 09:41:55 (EDT)
---
Where is Bob White playing? Is the Organ at theEverett theater played much in between theater times?
William O. Morrison
Marysville, WA USA - Thursday, September 09, 1999 at 18:48:48 (EDT)
---
Great site! I realize "one man's meat is another man's poison"... but I was surprised your Paramount stoplist did not include a 16' Orch Oboe (tc)on the Great, or a Great Octave to Accomp 2nd T, or any MIDI options
Doug
Cleveland, OH USA - Thursday, September 09, 1999 at 08:56:48 (EDT)
---
Andy Crow, I would like to play my old organ one more time. I plan on being at the concert on Sept.11 in Yelm. Thanks Joyce Morrison.Please E. Mail me.
Joyce Morrison
Mt.Vernon , WA USA - Monday, September 06, 1999 at 20:27:19 (EDT)
---
Wow! What a great web site. Whoever has taken on the job of designing and maintainingthis site is doing an excellent job. What a great example for the rest of us. Thank youfor your time and effort. You have given the community a great resource.
J.P. Legris
Portland, OR USA - Wednesday, September 01, 1999 at 16:50:13 (EDT)
---
Great site. Glad to see theatre organ on the net.
Sam Yacono
USA - Sunday, August 29, 1999 at 10:03:21 (EDT)
---
Hello Tom-What a great site. I've been here for over 2 hours! I will send you some additional info on Bellingham Theatres soon. Keep up the great work. Jeff.
Jeffrey A. Fox
bellingham, wa USA - Thursday, August 19, 1999 at 23:07:06 (EDT)
---
Nicely done site.While my taste tends to run more towards trackersthan tibias (in some circles, I'm considered amilitant tracker-backer), that doesn't change myopinion of your site, nor the fact that it's oneof the best organ sites around. Fairlyfast-loading, too. I would like to see morepictures, though.
James H. H. Lampert
Fountain Valley, CA USA - Thursday, August 19, 1999 at 17:41:05 (EDT)
---
If I can find an E mail address I will send a photo of Stockport nr Manchester UK Town Hall Wurlitzer ex Paramount Manchester twin of Seattle?
GORDON W CROOK
BASILDON, UK - Sunday, August 08, 1999 at 10:20:58 (EDT)
---
Very nice. I've added you to the historic theatre portion of my site. If you have suggestions for other theatre buildings in the NW, which are on the historic preservation list, please let me know.Am also interested in NW theatre doing melodrama, etc. If you are a NW theatre and would like to be added to Northwest Theatre Links, please let me know.If your theatre needs more exposure on the genre/or interest homepage, please let me know.
Liz Fugate
Seattle, WA USA - Wednesday, July 21, 1999 at 22:31:37 (EDT)
---
Back in the mid-70s, I was a member of PSTOS. I regularly attended concerts at the Grenada Organ Loft (was a voluteer popcorn seller) and took lessons from Eddie Zolman. Being in the military, I was assigned all around the world after that. Following retirment from the army, I moved to Salt Lake City where, for one year, I was president of the Beehive ATOS chapter. Now fully retired in Florida (except for teaching piano lessons), I haven't seen a real theatre organ in years, but have a Conn 650 three-manual (AGO pedalboard) in the house. Regards to any who remenber me.
Doug Bacon
Niceville, FL USA - Thursday, July 08, 1999 at 12:25:05 (EDT)
---
Hello from an organist from the past. I just got on line. It's so nice to know some people still remember Joyce Morrison. I am so pleased that so much is being done to promote Theater pipe organs.
Joyce Morrison
Mt. Vernon, WA USA - Saturday, July 03, 1999 at 21:37:27 (EDT)
---
Great graphics and animation of the PSTOS logo, plus the animated quill pen is "cool". You've done an exceptional job of keeping up with current information too. Thanks!
Bob Zat
Seattle, WA USA - Tuesday, June 29, 1999 at 14:11:33 (EDT)
---
I am going to Blackpool England to here there organ and purchase som CD'S, of there great music..
Joseph Gordon
Bellevue, WA USA - Tuesday, June 22, 1999 at 11:56:31 (EDT)
---
In January 1949, the McSwain family (I was only 2 years old) arrived in Coos Bay, Oregon to take over the Egyptian Theatre, the Liberty Theatre (in nearby North Bend)and the Noble Theatre. I worked at the Egyptian mostly and was general manager there from 1982 to my retirement at the end of 1995. Paul Quarino performed many times at the Egyptian's Mighty Wurlitzer, which still exists but needs some work. I have considerable historical information on the Egyptian. Toni McSwain
Toni McSwain
Coos Bay, OR USA - Sunday, June 13, 1999 at 14:29:37 (EDT)
---
I'm looking for recorded music, hopefully a C.D. from the Organ Grinder Resturant which was in Portland, OR.
Mike Wilson
Salt Lake City, UT USA - Monday, June 07, 1999 at 20:15:16 (EDT)
---
We've fixed the Guestbook! Sorry for the inconvenience.
http://www.pstos.org
Seattle, WA USA - Monday, May 17, 1999 at 15:27:15 (EDT)
---
Incredible collection of information on area Theatres and Pipe Organs; it must have been a huge amount of work to collect this much information! Really enjoying the large number of photograghs online here. The entire site is easy to use, and fast. Will be back to see more of the pictures and Theatre history.
Darrell Fluehr
San Francisco, CA USA - Tuesday, March 09, 1999 at 09:09:02 (EST)
---
Finally got on the Internet so am visiting you for the first time, but will do so again. Have been a member of the Chapter for some years, but cannot attend many of your functions due to the distance involved (and bad weather on the pass this time of year). Thanks for all the information.
Edith Ryan
Yakima, WA USA - Friday, February 26, 1999 at 13:23:11 (EST)
---
As an ATOS member I read this information for several hours and was so very please. I enjoyed it ever so much. You have done a fine job finding all of the interesting informatiom. I also have a Two Manual Wurli and various pipes. Thanks
Larry Springer
Warren, O USA - Saturday, February 20, 1999 at 23:20:13 (EST)
---
A page about the FOX Theatre in Detroit~!
Brian Carmody
Detroit, MI USA - Tuesday, January 19, 1999 at 18:51:00 (PST)
---
Very Well done! I would like to say "Hi" to my dad, Jack Becvar!
Robin Kaiser
Makawao, HI. USA - Sunday, January 10, 1999 at 18:02:54 (PST)
---
It's great to feel welcome! Russ Evans is advising by email on the rebuild of my 2/6 Wurlitzer - drop by and see it anytime! Greetings from Down Under.
Michael Woolf
Wellington, New Zealand - Thursday, December 31, 1998 at 17:04:27 (PST)
---
Great site!!
Bob North
Delta, BC Canada - Sunday, October 25, 1998 at 00:51:26 (PDT)
---
Hi Tom! We have several links to your PSTOS site in our Columbia River Organ Club web site. If this is not okay, please notify webmaster jen at above address. Thank you for a beautiful job on your site. The new additions are spectacular.
jen
vancouver, WA USA - Wednesday, October 07, 1998 at 19:40:37 (PDT)
---
Great WEB site. I found this through Tom Blackwell when discussing the 5/24 Marr & Colton once owned by Bill Blunk. I will be back to check out PSTOS. I am a member of ATOS,SJTOS,DVTOS & DTOS (Dickinson TO Society).Karl Keller
Karl Keller
Media, PA USA - Tuesday, October 06, 1998 at 17:09:08 (PDT)
---
Am a member of Puget Sound Chapter, but mygeographic location reduces the times I canget down to Seattle for meetings.Does anytone know of a library (private orpublic) that has a collection of old sheetmusic that could be photocopied? I have beenasked to put together a short program for Veteran's Day (Nov. 11) and am looking forsheet music for popular songs of that time...like,"Praise the Lord and Pass the Ammunition","There'll Always be an England", etc.
Norman Schmidt
Lindell Beach, BC Canada - Tuesday, September 29, 1998 at 12:25:52 (PDT)
---
ATOS People from Bellingham in particular, I would like to communicate with you in regards to my mother Doris Miller. Doris played many concerts in the Puget Sound area and has been living here in the Edmonton area. If you would like information contact me at Bassist@Home.com
Bob Miller
Edmonton, Canada - Wednesday, September 16, 1998 at 09:54:35 (PDT)
---
Very well done site. I live in the Northwest and did not realize that so much information was available about organ installations in the area. My organ (Wurlitzer style D) has just been re-installed and I am renewing my interest in theatre organs. This is the best web site I have seen yet. Congratulations on an excellent job.
Allan Plunkett
Portland, OR USA - Friday, September 11, 1998 at 09:49:07 (PDT)
---
This this is the best on the Net and the mostenjoyable to read! Even the Guestbook is fun. I'mtrying to find some people I know. Keep it up, themore you add, the happier it makes me. I like to see more on the Columbian Parish that Andy Crow and Bob White on working on with others. More pictures would be nice. I owned that Organ at one time.
William O. Morrison
Marysville, WA USA - Thursday, August 27, 1998 at 23:20:25 (PDT)
---
I just saw all three Silent Movie Monday performances and enjoyed them all tremendously. What a beautiful treasure the Wurlitzer organ in the Paramount theatre is!! Thank you for giving it back to us to enjoy in all its grandeur and beauty.
Donald R. Jones
Seattle, WA USA - Monday, August 24, 1998 at 23:35:49 (PDT)
---
Nice source of info that's hard to come by otherwise.
Art Baske
Mercer Island, Wa. USA - Tuesday, August 11, 1998 at 11:31:31 (PDT)
---
Great Job Thanks Dave Elwood
Dave and Barbara Elwood
Vancouver, WA USA - Monday, August 10, 1998 at 16:19:00 (PDT)
---
Great job--it looks wonderful--an incredible amount of information here. I look forward to visiting often. Thanks for all the hard work!
Dan Johansson
Seattle, Wa USA - Friday, August 07, 1998 at 17:12:44 (PDT)
---
A very comprehensive, well laid out site. The Paramount picture gallery is excellent. The Paramount Marquee is now my Windows wallpaper!
Ryan Heggie
Adelaide, SA Australia - Friday, August 07, 1998 at 02:52:20 (PDT)
---
Fantastic Website. I was thrilled to have all of this marvulous information right at my access. Congradulations! From a little girl growing up in Salt Lake with the Organ Loft to Grandmother now a PSTOS & MBTOS member. Thank you.
Caroline Hill
Arlington, WA USA - Monday, August 03, 1998 at 21:08:12 (PDT)
---
Nice site. I never thought the Paramount would ever play again!
Patrick Lajko
Seattle, WA USA - Monday, August 03, 1998 at 14:31:10 (PDT)
---
Very impressive!!! Keep up the good work...
Walt Strony
Carefree, AZ USA - Monday, July 27, 1998 at 09:58:00 (PDT)
---
I was so excited to see go much information on the Paramount's Mighty Wurlitzer!!!
Mykel A. Pennington
Seattle, WA USA - Monday, July 27, 1998 at 09:23:39 (PDT)
---
Many congrats on your fine Web page! It is especially considerate of you to include references to suppliers of various materials. Best wishes on all of your projects!
Larry Chace
Etna, NY USA - Wednesday, July 08, 1998 at 09:27:25 (PDT)
---
Member and Past President, Sierra Chapter, A.T.O.S. GREAT SITE YOU HAVE!
Jim Hodges
Sacramento, CA USA - Monday, July 06, 1998 at 05:11:56 (PDT)
---
What ever happend to the Pipe Organ thatwas at the ORGAN GRINDER in Portland ?
Mike kinslow
Portland, ORE USA - Sunday, July 05, 1998 at 22:50:41 (PDT)
---
What a superb website! It will be of immense interest and give much pleasure to all theatre organ lovers. Congartulation
Ian McIver
Brisbane, Qld Australia - Saturday, July 04, 1998 at 23:00:23 (PDT)
---
Congradulations on an excellent site.
Hokum W Jeebs
Seattle, WA USA - Wednesday, July 01, 1998 at 11:06:21 (PDT)
---
Member, Connecticut Valley Theatre Organ Society Owner, Austin Organ Service CompanyFriend and admirer of the late Bill Bunch
Bon Smith
Avon, CT USA - Monday, June 29, 1998 at 10:59:51 (PDT)
---
You have done an exemplery job on this site. I'm amazed at all the additions and improvementssince I first viewed it. It's a model for gooddesign.
Dave Schutt
San Jose, CA USA - Monday, June 29, 1998 at 10:19:20 (PDT)
---
The site is great! Good layout, easy to navigate through, very informative, and fast downloading. Fantastic job.
Bob Zat
Seattle, WA USA - Saturday, June 20, 1998 at 09:41:46 (PDT)
---
Congratulations on your very comprehensive website. There is so much to offer,it will take several viewings to visit it all!Regards,Neil Palmer
Neil Palmer
Ashfield, NSW Australia - Friday, June 19, 1998 at 06:45:42 (PDT)
---
This is great !
Norman D. Miller
Seattle , WA USA - Tuesday, June 16, 1998 at 10:03:40 (PDT)
---
This is the best Organ site on the net. Keep up the good work. Regards to all. Bill Schumacher
Bill Schumacher
USA - Monday, June 15, 1998 at 21:22:17 (PDT)
---
Billy Bunch installed my Wurly (Style D, 2/6), in my home in West Seattle in 1953. It came out of the Granada Theatre in Everett, installed by Sandy in 1926. Home installations were almost unheard of then. Talk about the "beast in the basement".
Wally Stevenson
Seattle, WA USA - Friday, June 12, 1998 at 18:50:42 (PDT)
---
This is a very nice site indeed! Keep it up!
Phil Housh
Boise, ID USA - Friday, June 12, 1998 at 16:00:40 (PDT)
---
VERY COMPREHENSIVE WORK HERE.WOLL ASK OUR EXPERT SON IF HE CAN SETUP MY 15 INCH MONITOR TO ENLARGE THE PRINT OF SOME PLACES. GOOD LUCK BOB AND HILDA
BOB & HILDA PASALICH
SYLMAR, CA USA - Friday, June 12, 1998 at 11:25:09 (PDT)
---
Just excellent. It is interesting, and so professionally executed. A joy to visit!
Ian McLean
Wamboin, NSW Australia - Thursday, June 11, 1998 at 17:21:56 (PDT)
---
Probably the finest Website I have seen. Very well organised simple to use.What I would like to see in the future if it is possible is stop and rank lists for the organs especially the rarer instruments which we have never seen in the U.K.I realise it may not be possible for some of the older and now non-existing instruments and would require a lot of time to assemble, but it would be very much appreciated.Well done.Richard.
Mr. R.E. Malone
Bradford West Yorkshire, United Kingdom - Thursday, June 11, 1998 at 15:01:52 (PDT)
---
Love It! Keep up the great work. This is a great source of information to share with my radio listeners on my Theatre Pipe Organ radio show in Oregon, "Pipes On Parade" on KBCH 1400 AM in Lincoln City, Saturdays at 11a.m. When on the Oregon coast, tune it in!
Matias Bombal
Lincoln City, OR USA - Thursday, June 11, 1998 at 14:23:03 (PDT)
---
What an incredible site! You obviously have put in much time and effort. Truly enjoyable, especially the history. I had no idea there were so many theatre organs in the Northwest, and an amazing number of them still alive and kicking. You're one of my bookmarks, and I'll be visiting often. Thanks!
Rich Wildhirt
Renton , WA USA - Thursday, June 11, 1998 at 08:24:37 (PDT)
---
What a well done page I'll certainly add it to my bookmarks. Thanks for the tremendous amount of work you've done.
Frank Johnson
Winfield, KS USA - Thursday, June 11, 1998 at 07:40:51 (PDT)
---
Nice Site I'll add it to "The Pipe Organ Tracker Project" home page asapThe wolrds largest collection of "Links to Pipe Organs and Related Keyboard Musical Instruments "http://www.freeyellow.com/members/radentonson" I must git me one of them there new fangled "search engines" you've gotten yerself. Neat Stuff"
Nelson Denton
Hamilton, on Canada - Wednesday, June 10, 1998 at 23:17:03 (PDT)
---
Excellent Website--the most comprehensive Theatre Organ site we've seen!
Jim & Shirley Clausen
Portland, OR USA - Wednesday, June 10, 1998 at 22:04:22 (PDT)
---
A remarkable site! I just started exploring and want to express my thanks toall of you who have organized what is one of the best organized websites I haveseen. Good Luck!
Stan Lowkis
Ipswich, MA USA - Wednesday, June 10, 1998 at 19:47:18 (PDT)
---
Wow! I Love it! Love & Kisses OXOXOX, Martha
Martha Lake
Seattle, WA - Thursday, June 08, 1998 at 10:32:45 (PDT)
---
Best wishes. Please add some information about all the instruments I played while I was in Idaho. Thanks mucho! P.S. Love the guestbook feature!
George Montalba
Nice, France - Thursday, June 04, 1998 at 20:06:04 (PDT)
---
I love your site. I only wish I'd found it earlier!
Jesse Crawford
New York, NY USA - Thursday, June 04, 1998 at 19:59:50 (PDT)
---