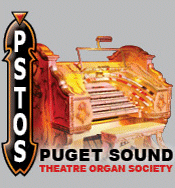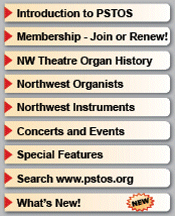 ---
Bill Sherwood
&nbsp
Back to the Northwest Organists page

Bill at the Granada Organ Loft Wurlitzer, January 1970.
Bill is an organist of many varieties - from the Classics to the Pops. He has played in churches, funeral homes, skating rinks and pizza parlors.
&nbsp
Bill played at the Granada Organ Loft in West Seattle, and has performed for organ clubs in Seattle, Tacoma and Federal Way. In California, he played for churches and for organ clubs in Santa Cruz, San Jose and Scotts Valley.
&nbsp
Bill is currently residing on the island of Maui, Hawaii. He is organist at Iao Congregational Church in Wailuku. He also serves as wedding organist for Style Co. Weddings, in Lahaina.
&nbsp


Federal Way Family Skating Center, c.1969
&nbsp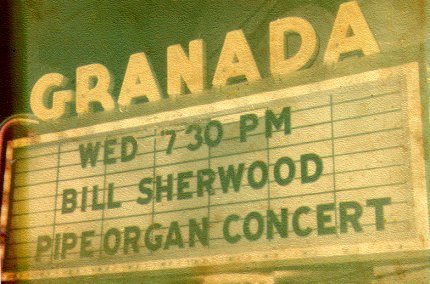 In Concert at the Granada Organ Loft, 1970
&nbsp

---
&nbsp
Monday, Sept. 15, 1986 - Santa Cruz Sentinel, Dave Gingold

&nbsp

Bill Sherwood
&nbsp
Up among the big trees in Ben Lomond, around a bend in the road, stands the Tyrolean Inn. In the restaurant of that inn, beneath the country beams and ranks of beer steins, nestled in a corner formed by walls hung with crockery and plaques offering German greetings, sits the Hammond B-3 organ of Bill Sherwood.
&nbsp
"Quaint, isn't it?," asks the organist.
&nbsp
In an environment scented by frying schnitzels, from 6 to 9 p.m. each weekday evening, Sherwood sends out dinner music from the organ, completing the old-world atmosphere with apropos musical chestnuts.

Bill Sherwood: Organist from the old school.
&nbsp


I've been here for a year, Labor Day. Actually two years, with a vacant span in between. My function is to play dinner music. I'm the only organ player in the county that's in a restaurant.
&nbsp
The type of music I play here, and in the skating rinks, is music from the '30s, '40s, and '50s -- what people can relate to. One song brings back memories of another, and I get a lot of requests, I didn't have to learn the polkas and all when I came here, I knew it all from the skating rinks.
&nbsp
I've played the organ in skating rinks, pizza parlors, churches and funeral parlors. I still do all that, except for the pizza parlor. That was up in Washington state.
&nbsp
I've played in skating rinks there, as well as in San Jose and in Scotts Valley. I also teach organ and piano privately. I live in Santa Cruz, and play organ at the Star of the Sea Church.
&nbsp
The most fun is playing in skating rinks. This is the best dinner house I've played in.
&nbsp
I play "Happy Birthday" and the "Anniversary Waltz." Most requests are from the Big Band era. I mix everything. I start with a waltz, change to a few ballads, then a polka, a tango. I try to mix it so there's something for everybody.
&nbsp
A passing waitress teases "Tell how the ladies flock around your piano bench and kiss you and give you tips." Bill Sherwood chuckles and blushes just a little.
&nbsp
My background is in classical church organ, all pipe organ. I started lessons on the piano at age 8. My first teacher was a concert and classical church organist and pianist-- very old-school, very strict--absolutely no popular music whatsoever. It was forbidden.
&nbsp
Later, I met a person with a theatre pipe organ in their home. The theatre organ is quite different from a church organ. One difference is it has Tibias, and the church organ has flutes.
&nbsp
My third teacher was another classical organist, but not as strict. He dabbled in popular music, and had a music store. He offered me my first teaching position. I was about 23. I've been teaching and playing organ professionally ever since.
&nbsp
There are two pipe organs in the area that I like to play -- at Star of the Sea and Grace United Methodist Church. There's also an electric Rodgers organ at Holy Cross and one at Soquel Congregational.
&nbsp
There's been a drastic change from pure organ to automatic. One of the automatics, as I call them, with features geared to today's music, is the Yamaha. I play that at Rich Rodino's music store sometimes.
&nbsp
Basically, I'm the type of organist that's for the old standards. I'm not into synthesizer too much. A lot of people today buy an organ with all this equipment on it, and never learn to use it.
&nbsp
A lot of students today come in and want to learn to play like their favorite rock band in two or three lessons. The old-school method has gone out the window. The days of scales and exercises are gone. You have to have them play a song in the first lesson or you lose them.
&nbsp
I belong to the Santa Cruz Organ Guild and have played concerts for them, and the All Organ Club of Santa Clara. I own the organ I use here. It's a Hammond B-3, my favorite electric. It's the second best organ. The first best is a pipe organ.
&nbsp
The way the Hammond tone is created, synthesizers have modeled themselves after it. You pull these tabs out to set pitches. Now, with the synthesizer, you can get in between these pitches. The speaker is in a separate cabinet. There is actually nothing in the bottom. Restaurant organs have a wood back, but those for use in night clubs just have open space down there, above the foot pedals.
&nbsp
The newer organs are self-contained, they have speakers right in them.
&nbsp
Pipe organs are common in Seattle and San Francisco, but not in this area. I'm looking to find out if the theatre organ from the Fox Theater in Watsonville is there, but I can't get a straight answer. I traced one organ from the old Santa Cruz Theater to St. Joseph's Shrine on West Cliff Drive, then from there to Santa Clara, but then I lost the trail.
&nbsp
In the church, the music of today is more upbeat. A lot of old church pipe organs are unable to handle it, so lots of churches are installing electric organs as well. At Star of the Sea, I use both.
&nbsp
The theatre pipe organ was made for the music of the '20s, '30s and '40s. After that, rock took over and the organ went away. So did a lot of my jobs. The organist used to play during silent films. When talkies came, they would play before the film, during intermission, and sometimes at the end of the program as people were leaving the theatre.
&nbsp
The cost of maintenance, and maybe the union had something to do with it being discontinued. They had to pay an organist a full day's wages, when he might only play three 15 minute sets.
&nbsp
I practice Bach every day at Star of the Sea for two and a half hours. I could do that on a theatre organ, but it wouldn't be the same. I like both types equally well.
&nbsp
Organs are common in restaurants and bars in Seattle, I never had a problem finding jobs there. Here... Friends and weather brought me down. I thought the change would be good, but it took seven years to build up a reputation here.
---