---
Tom Roughton (1942-2010)
Redondo, WA
&nbsp
Back to the Northwest Organists page

Tom at the Wilson (Fox) Theatre in Fresno California, March 1963
&nbsp
Tom is pictured at Wurlitzer Opus 1217, a Style 235, 3 Manual, 11 Rank (No Piano). Originally installed, 1925. Presently playing at the Hayden Orpheum Theatre, Cremorne, NSW (North of Sydney). www.orpheum.com.au.
&nbsp
Tom began his music studies at the age of 8 with the accordion. He first heard a theatre pipe organ and was "bitten by the bug" in 1961. He has had a continued interest from that time on. Tom first played a Wurlitzer (Opus 1217) at the Wilson (Fox) Theatre, Fresno, CA in 1961. He additionally played for The Wurlitzer Company at Disneyland throughout the '60s. Tom holds degrees in both Music and Business Administration. In 1970, Tom embarked on careers in Banking and, later, Information Technology, and upon retiring in 2003, he and his wife, Joani, moved from Spokane, WA to the Seattle area to be closer to family and especially grandchildren – and theatre pipe organs.
&nbsp
Tom made "cameo" appearances on the PSTOS Haller Lake Community Club chapter instrument and at other PSTOS functions. He was seen and heard regularly on the Wurlitzer (Opus 2031) at Kenyon Hall www.kenyonhall.org, West Seattle, WA.
&nbsp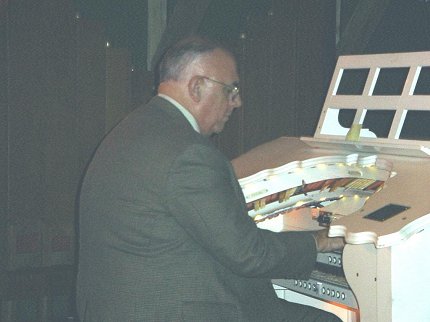 Tom at the Kenyon Hall Wurlitzer, 2005
From Cynthia Roughton-Carpenter (Tom's daughter):
&nbsp
Thomas (Tom) Roughton was the first of three boys born to James and Irma Roughton in Long Beach, CA on October 30, 1942. He attended Bullard High School in Fresno, CA, University of the Pacific in Stockton, CA and Fresno State University, Fresno, CA. His working career was focused in the banking and computer industries spending many years at Bank of America, Olivetti, Caelus Manufacturing Software and Lukins & Annis Attorneys P.S. He lived most of his life in California until moving to Spokane, Washington in 1990. He married Joani Roughton in 1992 and in 2003 they made the move to the Seattle area landing at Redondo Beach. Tom was an accomplished musician, playing such instruments as the oboe, flute, accordion, tuba, piano and the pipe organ. He was an avid enthusiast of computers, clocks, automobiles, trains, planes and pipe organs. His love for trains led to his involvement with Amtrak and their Trails and Rails program of which he was an Interpretive Guide on the Coast Starlight/Seattle to Portland route. In addition, Tom's passion for aviation led him to his dream job as docent at the Museum of Flight in Seattle where he shared his knowledge for airplanes with people from all over the world. His musical background led to his performing as House Organist at Kenyon Hall in West Seattle, on their famous 1929 Mighty Wurlitzer pipe organ. Tom had a wonderful sense of humor, a love for fine food and cookies, and enjoyed being with people of all ages. A big fan of baseball, he had a special place in his heart for the Los Angeles Dodgers as well as the Seattle Mariners. Tom was on the Board of Directors for the both Puget Sound Theatre Organ Society, and Seattle Artists. He was also a member of American Theater Organ Society and the Northern Pacific Railway Historical Association. He truly found happiness in Redondo Beach with his beloved wife Joani. Together they enjoyed their days watching planes arrive and depart SeaTac Airport and ships ply the waters with their cargo from Tacoma to points worldwide.
&nbsp
Tom passed away on Wednesday June 16, 2010 due to complications from cancer and heart disease.
&nbsp
Thomas Roughton is survived by his wife Joani of Redondo Beach, WA, daughter Cynthia L. Roughton-Carpenter and husband Paul and her mother Trudy M. Roughton of Garden Grove, CA, brother Larry James Roughton and wife Debra of Rancho Cucamonga, CA, brother Walter Byde Roughton and mother Irma Adair Roughton of South Lake Tahoe, CA, step-daughter Micki Odegaard and husband Kevin of White Center, WA, Carol Harshaw and husband Mike of Lynnwood, WA, and grandchildren Brooks Carpenter, Maddie, Jackson & Lilly Odegaard, and Emma Mae Harshaw.
---