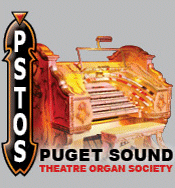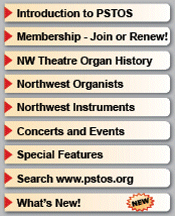 ---
Frank D. Rogers (1888-1968)
&nbsp
Back to the Northwest Organists page

Frank Rogers in a chamber of the Los Angeles Metropolitan/Paramount Wurlitzer, c. 1961
Photo by Bill Lamb
Born in Helena, Montana in May 1888, Frank Rogers came to the West Coast in the early days of the century. In 1906 he started his lifelong love affair with the pipe organ by getting a job at the Marshall Bennett Organ Co. (Spokane) as an apprentice during summer vacations. It was a very necessary step; he needed the money to pay tuition for his last two years at Whitman College in Walla Walla. He graduated in 1908, with honors in both piano and organ.
&nbsp
The theatre organ age was already making faint rumbles; the first use of an organ to accompany films which Frank recalled was at the Mike Gore theatre at 3rd and Main in Los Angeles. It was a small Estey roll player located behind the box office so the cashier could change the rolls. That was in 1906.
&nbsp
Upon his graduation from college, he started doing organ maintenance work for Bennett in Spokane. One of his assignments was a 7-rank Estey in the Clemmer Theatre, often played by a quiet young lad named Jesse Crawford. Then he moved south and got a job with the Robert Morton Co. in Van Nuys, California which covered the span 1913 to 1918, and completed Frank's education in the mechanics of organ building.
&nbsp
Then he met a man who had been one of the Hope-Jones "originals" at Elmira, N. Y. -- the legendary James H. Nuttall. A lifelong friendship sprung up and Frank joined Nuttall in the latter's organ installation and maintenance business, an arrangement which lasted through the rest of the "golden era" and well into the next decade. Early in the '20s Nuttall took on another former employee of the Robert Morton factory, Lee Haggart, who learned the fine points of organ building from Nuttall and acquired a solid appreciation of Frank Rogers' musicianship; when installation work was slack, Frank doubled as a theatre organist, playing vacation and fill work for the Venice Amusement Co., on a string of Wurlitzer styles B, 185 and 210 in the chain's beach town theatres. He often subbed for such remembered organists as Jamie Erickson, Mel Ogden and in Los Angeles for Eddie Horton at the 5-33 Morton in the Kinema (later Criterion) theatre.
&nbsp
Frank Rogers never left the organ business. He always managed to find enough maintenance and installation work to keep him going, right up to the time of his retirement a few years ago. Even then he always had time to help an enthusiast struggling to set up a few ranks of home-based pipes on a shoestring budget. One of them was Stu Green who later became an editor of sorts. Frank helped him remove an 8-rank Morton from a beach town theatre in the mid-'50's and move it to storage, a project which came to naught other than exposing Stu to the vast store of theatre organ knowledge and information Frank carried about in his head. Even in retirement, his services as an organ expert were in demand. When it was decided to sell the LA Metropolitan/ Paramount style 285 (4/34) organ piecemeal in the early '60s, Frank was hired by the owner to supervise the dismemberment and put price tags on the treasures which came out of those chambers. It was a bittersweet job for Frank because he had installed the Wurlitzer when the Metropolitan opened in the late '20s.
&nbsp
He died on Sept. 20, 1968, at the age of 80 while living with his daughter and son-in-law at Paradise, California.
&nbsp
He was often described as "the grand old man of the theatre organ." Frank Rogers earned that title many times over.
---