---
Lou DuMoulin (1912-1982)
Back to the Northwest Organists page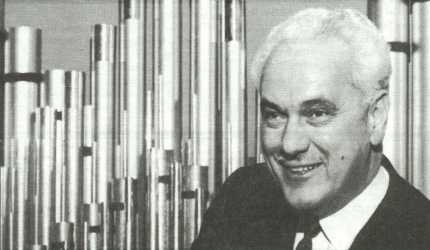 Lou DuMoulin
&nbsp
Lou DuMoulin was an organist and electronic organ salesman for Balcom & Vaughan. In 1963, he purchased the Portland Liberty Theatre 4/34 Wurlitzer and installed it in West Seattle's Granada Theatre and formed the Granada Organ Loft Club.
&nbsp
The 250-member club showed silent movies to raise money. The theatre thrived for a few years with films by such stars as Charlie Chaplin and Rudolph Valentino, organ playing by such notables as George Wright and Korla Pandit. In 1970, Lou DuMoulin tried to engineer a club purchase of the theatre. After meeting resistance from other club members, he resigned and sold the organ to the club for $10,000. The remaining members tried several strategies to maintain interest in the theatre but disbanded in September 1974 after failing to draw the full houses DuMoulin had. The organ was later sold for parts.
&nbsp
Lou and his wife Wynne also had a 3/12 Smith residence organ originally from Enumclaw's Liberty Theatre. This organ was installed in their home by Balcom & Vaughan in 1960.
&nbsp
Lou died in 1982, at the age of 70, of a heart attack.
---