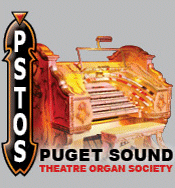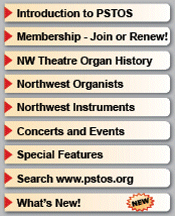 ---
6.8 Earthquake Damages
Local Theatre Organs
February 28, 2001 10:58AM PST
&nbsp
Updated: April 15, 2002
&nbsp
The Washington Center Wurlitzer repairs are complete. A grand "reopening" event featuring Barry Baker was presented on April 14, 2002.
&nbsp

---
&nbsp
Updated: October 20, 2001
&nbsp
From: PSTOS Pipeline, October 2001 (V12, No.10)
&nbsp
Washington Center Wurlitzer earthquake repairs are completed: Restoration of the Wurlitzer in Olympia's Washington Center For The Performing Arts, which sustained extensive damage in the recent earthquake, has been completed by Zollman Pipe Organ Service of Wichita. It is playable once again with the only remaining work to be done being the finish voicing. Plans for a "reopening event" are being formulated.
&nbsp

---
&nbsp
From: James Lampert via e-mail, June 6 2001
&nbsp
St. Marks Cathedral Flentrop update: Repairs and seismic retrofitting of the instrument have gone somewhat quicker than expected. The Positive, Brustwerk and Pedal divisions were essentially undamaged, and Paul Fritts was able to get the Hauptwerk playable in time for Easter. Most of the damage was in the Oberwerk (the only swelled division in the entire organ), which had to be dismantled for extensive rebuilding. It is expected to return sometime this summer, far sooner than originally expected.
&nbsp

---
&nbsp
Updated: May 21, 2001
&nbsp
April 19, 2001: Portland's Scottish Rite Temple Wurlitzer sustained some damage during the recent earthquake, which has temporarily adversely affected its playing condition. Shaking of the building caused damage to two of the seven wind reservoirs and has damaged some of the chests. Minor building damage occurred and is being addressed and repaired at this time. When building repairs are completed, or at a minimum substantially underway, work will begin on organ items. John Otterstedt, organ curator, plans to fully assess quake damage, and will proceed with repair work as rapidly as reasonably possible.
&nbsp

---
March 10, 2001: Olympia's Washington Center Wurlitzer is not currently playable. Located near the epicenter, the instrument sustained damage to the structural components and pipework. Repair work has started and it is hoped that the organ will be playing again soon.
&nbsp

---
March 6, 2001: A visual inspection (no wind) of the Seattle Paramount Theatre Wurlitzer found no major structural damage other than a fallen trem cover and several treble pipes dislodged from their holes.
&nbsp

---
March 5, 2001: Everett's Everett Theatre Kimball, Yelm's St. Columban Morton and Seattle's Hokum Hall Wurlitzer and Haller Lake Community Club Wurlitzer made it through with no noticeable damage.
&nbsp
Most of the Seattle-area residence organs had little or no damage. We are still waiting for damage reports for the residence organs in the South Puget Sound area.
&nbsp
Several church installations sustained damage including the large Flentrop at St. Marks in Seattle. Damage is estimated at $150k-$200k, requiring six months to a year to repair.
&nbsp
Watch this page for the latest updates.
---