---
Rusczyk Residence - 3/10 Wurlitzer
Vancouver, Washington
Organ installation timeframe: 2000-2004
&nbsp
Back to the Northwest Theatre Organ History: Residences page

Three-manual Wurlitzer console.
&nbsp
The Rusczyk instrument is based around a 1918 Wurlitzer (opus #173) originally installed in Portland's Majestic Theatre. The organ was later moved to the Rivoli Theatre.
&nbsp
Paul Turchan purchased the organ from the Rivoli in the 1960's and installed it in his Portland area studio/residence.
&nbsp

&nbsp&nbsp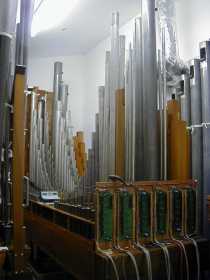 Two views of the pipe chamber
&nbsp
In 1996, the instrument was purchased by Bob & Michele Rusczyk and it is now playing in their Vancouver area home. The original two-manual console has been sold and the instrument is controlled by a newly installed three-manual Wurlitzer console.
&nbsp
For a short time, the organ was controlled by a three-manual Marr & Colton console. This console has since been sold.
---