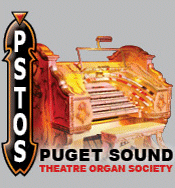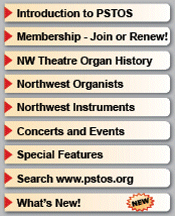 ---
Ridgemont Theatre - 2/6 Kimball
Seattle, Washington
7720 Greenwood Ave at 78th
Organ installation timeframe: 1923 - 1930
&nbsp
Back to the Washington Original Theatre Installations page

Ridgemont Theatre, c.1930
&nbsp
The Ridgemont Theatre was located in Seattle's Phinney Ridge/Greenwood neighborhood.
&nbsp
The theatre originally had a 2/6 Kimball theatre organ (opus #6842) installed in 1923. Records indicate that A. H. Biggs was organist at the Ridgemont in 1927. Popular Northwest organist Eddie Zollman played the Ridgemont for several years.
&nbsp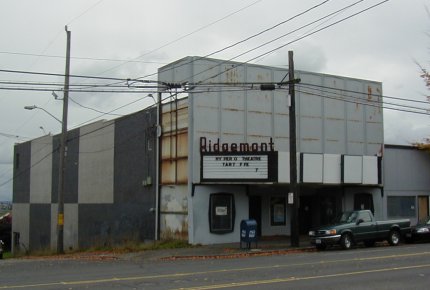 Ridgemont Theatre, November 2000
&nbsp


Ridgemont Theatre, c. 2000
The organ was later moved to St. John's Episcopal Church in Snohomish, Washington. It was later replaced by a Bond tracker and the Kimball was acquired by Marc Silver who had plans to install it in the front of the Comsopolitan Theatre on Hewitt Ave. in Everett.
&nbsp
Interestingly, the Ridgemont was subject of a 1968 Supreme Court ruling invalidating the City of Seattle's ordinances censoring movies. The Ridgemont operated as one of the first foreign movie theatres in the area.
&nbsp
In the late 1990s, the theatre building was used by the Bathhouse Theatre company for rehearsals and scene construction.
&nbsp
The building's attractive brick and stucco facade had been covered over years ago, but the theatre remained one of Seattle's last remaining neighborhood houses still standing.
&nbsp
In recent years, after the Bathhouse Theatre folded and vacated, the building fell into disrepair. General revival of the Greenwood/Phinney neighborhood made the economics of operating the theatre impractical when compared to other uses for the property.
&nbsp
The Ridgemont Theatre building was demolished on October 1-3, 2001.
&nbsp


Ridgemont Theatre lot, October 2001. Three days after demolition.
&nbsp

---
From Seattle Times, Arts & Entertainment: Wednesday, July 07, 1999
&nbsp
Developer may revive the Ridgemont Theatre
&nbsp
Seattle real-estate developer Linda Alexander is in discussions to buy the Ridgemont Theatre (a Greenwood cinema that once was part of the Landmark Theatres chain) and turn it into a live-performance venue. Alexander believes renovating the former movie house for live theater would take "thousands, not millions of dollars." She says she's garnered support for the idea from local legislators and artists.
&nbsp
"I've found a lot of concern about the loss of some of our mid-level theaters, and the loss of appropriate venues for them," Alexander reports.
&nbsp
The fledgling Hyperion Theatre company is one potential tenant of the theater. But Alexander says that if the purchase goes through, she will consult with neighborhood groups to make the Ridgemont "a place where a lot of community interactions could happen, and possibly some performances for children and families."
&nbsp
In recent years, the Ridgemont has functioned mostly as a rehearsal space for the now-defunct Bathhouse Theatre. It's within blocks of the nonprofit Taproot Theatre, which occupies another former cinema.
&nbsp
Greenwood is ripe for cultural expansion, asserts Alexander. "There's a lot of development happening in that corridor. Greenwood is a nice, solid, in-city neighborhood, and this project is quite doable."
&nbsp

---
From Phinney Ridge Review Fall 2000:
&nbsp
The Ridgemont Theatre building at Greenwood Avenue and 78th Street will be razed and replaced with a four-story mixed use building that will include 21 condominiums, 2400 square feet of retail space and underground parking for 36 vehicles.
&nbsp
The new building will be called the Ridgemont. As a result, in part because of recommendations from the neighborhood meetings, the developers hope to reuse the old Ridgemont signage but will put a new marquee on the building.
&nbsp


Land Use Request sign posted at the Ridgemont Theatre, November 2000
---
Ridgemont Theatre original stoplist, courtesy Larry Mayer 2014


Kimball Opus 6842
Ridgemont Theatre 1924
Seattle, Washington
5 Rks, 2 Man, 8 Traps, 2 Perc
 
Pedal
    Bass Drum  2nd T.
    Cymbal  2nd T.
    Tympani  2nd T.
32'    Acoustic Bass
16'    Contra Bass
8'    Trumpet
8'    Tibia Clausa
8'    Violin
8'    Flute
4'    Violin
 
Accompaniment
16'    Bourdon
8'    Trumpet
8'    Tibia Clausa
8'    Violin
8'    Vox Humana
8'    Flute
4'    Violin
4'    Forest Flute
2 2/3'    Nazard
2'    Piccolo
4'    Xylophone
    Snare Drum Roll
    Snare Drum Tap
    Chinese Block
    Tom-Tom
    Castanet
    Tambourine
    Triangle
 
 
Accom. 2nd T.
8'    Trumpet
8'    Tibia Clausa
4'    Tibia Flute
8'    Chimes
 
Solo
16'    Trombone  (T.C.)
16'    Contra Tibia Clausa  (T.C.)
16'    Contre Viole  (T.C.)
16'    Vox Humana  (T.C.)
8'    Trumpet
8'    Tibia Clausa
8'    Violin
8'    Orchestral Oboe   (Synthetic)
8'    Vox Humana
8'    Flute
4'    Cornet
4'    Tibia Flute
4'    Violin
4'    Vox Humana
4'    Forest Flute
2 2/3'    Nazard
2'    Piccolo
1 3/5'    Tierce
4'    Xylophone
8'    Chimes

---