---
Paramount Theatre - Wurlitzer Publix 1 (initially 4/20, currently 4/21)
Seattle, Washington
&nbsp
Back to the Paramount Theatre main page

The following is an edited version of material from the Seattle Paramount Theatre web site:


&copy 1996-2001
Seattle Theatre Group.
---
&nbsp


&nbsp
From 1900 to 1930, Seattle was home to one of the largest vaudeville circuits in the country. Typical performance bills included live entertainment followed by a silent film with organ accompaniment. Men and women of all ages and social backgrounds came to the theaters day and night to soak in Hollywood's glorious rays, watch Russian acrobats build human pyramids on the stage, and hear the orchestra swing.

Opening Night for the the Paramount (formerly
Seattle) Theatre in 1928.
&nbsp


&nbsp
One of the most popular attractions of any program was always the organ. Beginning with John Clemmer's Dream Theatre in 1905, every theater in the city resounded with the vibrating chords of theater organs. Over time Seattle became known as the "cradle of the theater organ."
&nbsp


&nbsp
One of the most impressive theater organs ever built was the Wurlitzer Publix, but only three remain in their original environments, the rest having been sold to private owners, placed in pizza restaurants, or simply dismantled. One of those three remaining Publix organs can be found at the Paramount Theatre.
&nbsp
Installed at a cost of over $100,000, the Paramount's mighty Wurlitzer includes hundreds of pipes, chimes, whistles, and horns. An entire grand piano and drum-percussion set is built into the side panels of the auditorium.
&nbsp
Gaylord B. Carter, chief organist at the Paramount in the '30s, became one of the most famous theatre organists in America.
&nbsp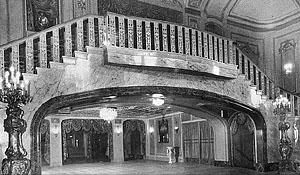 &nbsp
In May 1994, the Paramount's "Tribute to 1928" opened when the famous jazz pianist and organist Dick Hyman played a medley of songs by Fats Waller, himself an organist at the Harlem Theatre in the 1920s.
&nbsp
Lovingly cared for by the Puget Sound Theatre Organ Society, the Paramount's own Endangered Species is certainly safe and sound. A new room has been built to safely store the organ console next to the orchestra pit for those occasions when its pipes may blow and bells may ring.
---