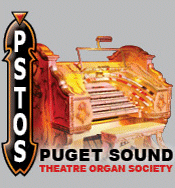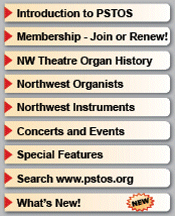 ---
Granada Organ Loft - 4/34 Wurlitzer
Seattle, Washington
5011 California Avenue SW
Organ installation timeframe: 1964 - 1974
&nbsp
Back to the Northwest Theatre Organ History: Other Installations page

Granada Organ Loft console, c.1971
&nbsp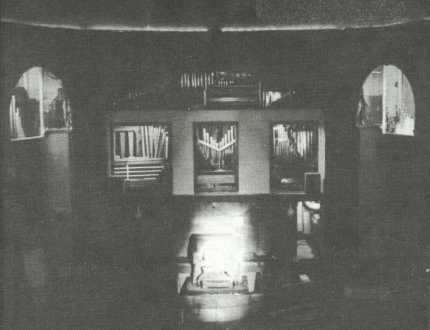 Interior of the Granada Theatre, 1964, during installation of the organ
&nbsp


Eddie Zollman in concert
The Granada Organ Loft instrument was originally installed as opus #164, a four-manual "Special" in Portland's New Liberty Theatre. At the time of its original installation in February of 1918 it was, at 34 ranks, the largest Wurlitzer theatre installation made.
&nbsp
The instrument was sold in 1963 to Lou DuMoulin. Lou was an electronic organ salesman for Balcom & Vaughan. The organ was later purchased from Lou by the Granada Organ Loft Club. The group installed it in the former Granada Theatre in West Seattle owned by John Danz. Some who heard it thought it was not as successful as it was in the original theatre.
&nbsp
The installation was completed in 1964. The club presented a concert series with many top-notch artists.
&nbsp

January 1965, Eddie Dunstedter

March 1965, Gaylord Carter accompanied "Thief of Bagdad"
Many others not yet listed!

In 1968, theatre managers Sterling Theatres announced that the Granada would return to operation as a movie house showing 2nd run films. The management allowed the organ to remain, but its use was curtailed somewhat.
&nbsp
The non-profit Granada Organ Loft Club continued for another six years. LaVelle McLaughlin was president of the club for several years. In 1974 the club disbanded and the organ was sold to Dennis Hedberg who used a portion of it in the Organ Grinder Restaurant instrument in Portland - most notably the 32' Diaphones. The remainder of the instrument was dispersed for parts.
&nbsp


Seattle Times October 9, 1974 (from article below)
---
The West Seattle Herald captured many of the happenings of the Granada Organ Loft Club:
&nbsp
June 1963: Lou DuMoulin forms the Granada Organ Loft Club and installs the former Portland Liberty Theatre 4/32 Wurlitzer in the theatre.
&nbsp
July 1963: The 250-member club showed silent movies to raise money. The theatre thrived for a few years with films by such stars as Charlie Chaplin and Rudolph Valentino, organ playing by such notables as George Wright and Korla Pandit. There was even a guest appearance by actor George O'Brien, star of "The Iron Horse," the 1924 silent classic. Lavelle McLaughlin was president of the club for several years.
&nbsp
July 1968: The Granada's owner, Sterling Theatres, wanted to capitalize on the theatre's new life. The firm installed a new wide screen and sound system. Sterling sporadically screened second-run sound pictures to supplement the silent offerings.
&nbsp
1970: DuMoulin tried to engineer a club purchase of the theatre. After meeting resistance from other club members, he resigned and sold the organ to the club for $10,000.
&nbsp
September 1974: The remaining members tried several strategies to maintain interest in the theatre but disbanded in September 1974 after failing to draw the full houses DuMoulin had.
&nbsp

---
&nbsp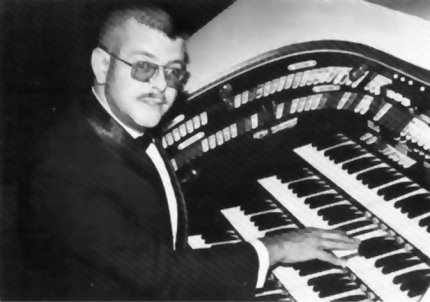 Seattlite Doug Bacon at the Organ Loft console, c.1976
&nbsp


Granada Organ Loft Club Poster
&nbsp

---
&nbsp
Letter to the Editor, Seattle Times November 24, 1974
&nbsp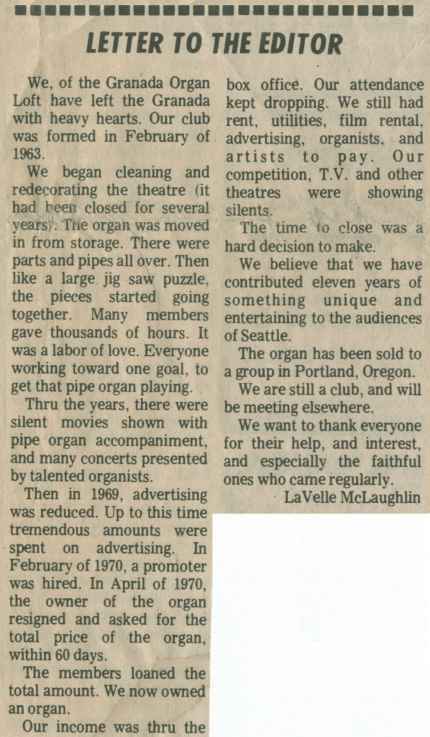 &nbsp

---
&nbsp
Seattle Times October 9, 1974
&nbsp

---
The Granada Organ Loft was an inspiration to many who visited. Brian Swanson of Robesonia, PA shares his story June 11, 2013:
&nbsp
As a young college student at the U of Washington, I attended the Granada Organ Loft in Seattle to watch silent films accompanied by wonderful bells and whistle sounds and dramatizations emerging from the organ pit (often hilarious). Not one easily thrilled, I was indeed thrilled by the short pre-film organ performances as the organist furiously played, the lights slowly dimming and the organ descending. What better way to enter into a great classic film, like The General with Buster Keaton?
&nbsp
-Brian Swanson
Robesonia, PA
---