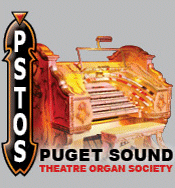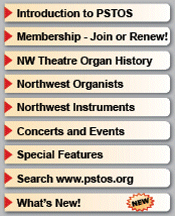 ---
Coliseum Theatre - 4/32 Wurlitzer
Seattle, Washington
500 Pike at 5th Ave
Organ installation timeframe: 1918-1950
&nbsp
Back to the Washington Original Theatre Installations page

Coliseum Theatre at night, c.1917
&nbsp

| | |
| --- | --- |
| The Coliseum Theatre opened in 1915 and was designed by prolific Northwest theatre architect B. Marcus Priteca. The theatre originally had a four-manual, thirty rank Moller concert organ (opus #1964) installed by C. J. Whittaker in 1915 at a cost of $12,500. According to Eugene Nye's detailed records, the organ had 2,149 pipes, a 10 HP Kinetic blower and the console had 57 stop. | Coliseum interior, c.1918 |
&nbsp
A unique feature of this instrument was the placement of the glockenspiel bars individually along the edge of the main balcony. Another unique feature was the four rank Echo division complete with its own 1/2 horsepower blower. In early 1918, the Moller instrument was moved to Tacoma's Victory Theatre by Louis Maas.
&nbsp
In June 1918, a new Wurlitzer organ was installed. This instrument was opus Wurlitzer #170, a 4-manual "Special" of 32 ranks. Although it was a proscenium installation, the Moller display pipes were retained.
&nbsp
According to Eugene Nye, the instrument was purchased for $46,000. It had 33 ranks **, 160 stops, 2084 pipes and a 35HP Spencer Orgoblo blower. The organ was installed by a Mr. Lane and tonally finished by Louis Maas. According to Mr. Nye, much of the tone was lost in the proscenium loft until a huge reflector was built. A piano was added in 1919.
&nbsp
**This disagrees with other accounts showing only 32 ranks.
&nbsp

| | |
| --- | --- |
| The Coliseum Theatre had several architectural "firsts" which were copied elsewhere is the United States -- the theatre had an intimate mezzanine, which become associated with all the big film palaces of the twenties, instead of having two balconies of the same size as custom dictated. Also, there were no stairs! All patrons bound for the upper floors arrived at their destination via easy-to-climb ramps. | Looking East on Pike St. |
&nbsp


Four-manual Wurlitzer console (pictured after removal, stored backstage at the Paramount Theatre).
&nbsp
Over the years, the distinctive vaulted entrance dome was modified several times. The left photo shows the dome as originally constructed in 1915 with an open face. In the 1920's, the dome was enclosed and a circular awning was added. In later years, the dome was removed completely and a new canopy with neon lighting was installed.
&nbsp

| | |
| --- | --- |
| Open face dome, c.1915 | Enclosed dome, c.1929 |
&nbsp
Theatre signage also changed several times. The original narrow "Coliseum" signs on the southeast and northwest corners of the building were replaced in the 1920's with larger "I"-shaped signs on either side of the entrance dome.
&nbsp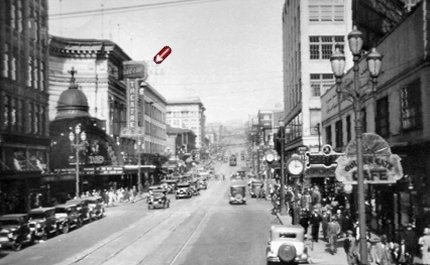 c.1930
&nbsp


Coliseum Theatre, looking across 5th Avenue c.1934
&nbsp


A NOVEL IDEA FOR A CONCESSION STAND, c.1941
Mr. Marvin Fox (Theatre Manager) devised the idea of a toy train on the concession stand as a way to get patrons to buy candy bars for shipment to service men overseas. Marvin Fox is the uncle of Jeffrey Fox, popular Bellingham organist.
&nbsp
Ads from the Seattle Post-Intelligencer. Marion Davies in The Red Mill, 1927. Richard Barthelmess and Dorothy Mackaill in Shore Leave, 1925.
&nbsp


Dick Simonton, c.1950
In November 1950, the Wurlitzer organ was sold to Robert "Big Bob" Koons for $1 dollar - less the four rank Vox Humana chorus and 16' Post Horn octave which became part of Richard Simonton's Bijou 4/36 Wurlitzer in North Hollywood.
&nbsp
<--- Dick Simonton holding one of the rare 16' Vox Humana pipes, most likely low CCC.
&nbsp
According to Eugene Nye's records, four other ranks may have been moved to the Liberty Theatre in Wenatchee but this cannot be confirmed.
&nbsp
Bob Koons initially moved the organ to his residence with plans to install it there. Six ranks were setup and playing. Bob later decided to place the large instrument in a Burien restaurant called Big Bob's Pipe Dream. Big Bob's was a moderately popular establishment and was one of the first organ-equipped restaurants in the area.
&nbsp


&nbsp
Two photos of the remodeled Coliseum interior, c.1960s. Most of the interesting architectural detail including the Moller display pipes had been removed.
&nbsp


&nbsp
"Big" Bob Koons passed away in 1980. The organ was purchased by Milt Kieffer, owner of Uncle Milt's Pizza Co. in Vancouver, Washington. Milt stored the instrument for a number of months and was contemplating another pizza venture for Spokane Washington or Eugene Oregon. Unfortunately, these plans never materialized and the organ was broken up for parts.
&nbsp
Several parts from the organ (console, 8-rank chest, regulators, some pipework (Krumet/Brass Trumpet/Solo Strings) were sold in March 1981 to a group of investors from Ohio including Dave Marshall and Robert Cowley who planned an organ-equipped restaurant in Dayton. This project was never executed and the parts were eventually sold to Bob MacNeur, John Fergerson, Dennis Hedberg, Dave Junchen and others.
&nbsp
The original four-manual console and some other parts were retained by Robert Cowley of Springfield, Ohio. Here is a picture of the console as installed in the Cowley home:
&nbsp


Coliseum console in Springfield Ohio, c.1999

Bob Cowley later dismantled the organ moved it to Newport, Tennessee where is was stored but not installed.
&nbsp
In the summer of 2009, Bob advertised the instrument as being available for donation to a suitable non-profit. PSTOS was primarily interested in returning the four-manual Wurlitzer console to Seattle, but a condition of the donation was that a large collection of other theatre organ parts must also be taken.
&nbsp
In the Fall of 2010, three members of Puget Sound Theatre Organ Society traveled to Newport to retrieve the parts. Despite various adverse conditions including lack of a proper staging area and monsoon-like rains, a 24 foot truck of parts, including many ranks of pipes, windchests and the four-manual Colseum console was loaded and driven the 2,600 miles back to Seattle. The console is currently being held in escrow by PSTOS. Other parts have been sold to cover trip expenses.
---

Elaborate terra cotta exterior of the Coliseum Theatre, date unknown
&nbsp
In the mid 1990's, the Coliseum Theatre building was converted to a Banana Republic store. During an extensive remodeling, the original terra cotta exterior was restored and the sloped theatre floor, proscenium and entire balcony were preserved. The possibility exists that a future tenant could restore the theatre to its original purpose.
&nbsp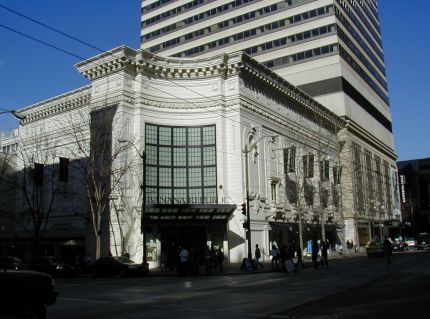 Coliseum Theatre building 2003, now a Banana Republic store
&nbsp


Coliseum Theatre entrance, Tom Blackwell photo, 2006
&nbsp

---
&nbsp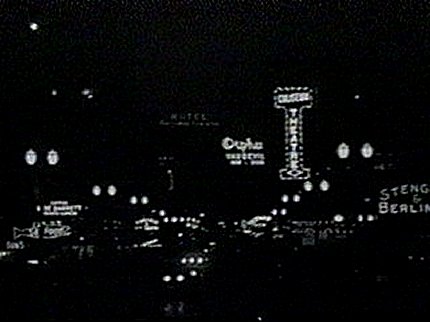 Looking North on 5th Avenue at night, date unknown. Orpheum signage also visible.
&nbsp


Postcard view of the Coliseum, date unknown
&nbsp


c.1987, courtesy Jeff Fox
&nbsp


Snow storm, February 1916
&nbsp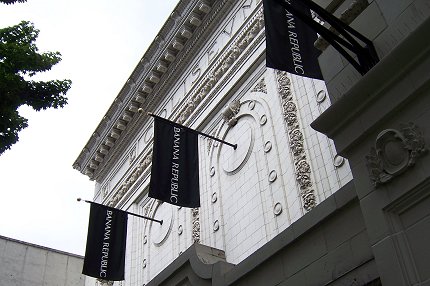 West side of the Coliseum Theatre entrance, Tom Blackwell photo, 2006
---