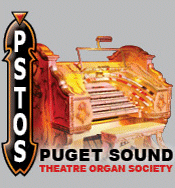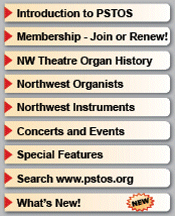 ---
Andy Anderson Residence - 3/21 Wurlitzer
Seattle, Washington
Organ installation timeframe: 1967 - 2013
&nbsp
Back to the Northwest Theatre Organ History: Residences page

Style B "Special" 2 manual console
&nbsp
Andy Anderson's residence organ was based on Wurlitzer opus #1769, a Style B "Special" originally installed October 1927 in Everett's Granada Theatre by Sandy Balcom. The Special designation was due to the added Diapason and Tibia ranks.
&nbsp
In 1953, Wally Stevenson contracted with Balcom & Vaughan to have the instrument installed in his West Seattle home.
&nbsp
Andy bought the instrument from Wally in April 1967 for $2,500 and installed it in his West Seattle home. According to Andy's detailed notes, ten van loads were required to complete the move between April 15-26. Helpers were Dan Squire, Ed Zollman Jr., Lee Bausher, and others.
&nbsp
Over the years, Andy made plans to expand the instrument. He acquired a three-manual console and 15 additional ranks.
&nbsp


Main Chamber
&nbsp


Solo Chamber
Note low octave of the 16' Wangerin Trombone mounted horizontally on the ceiling of the Solo chamber in the right photo.
&nbsp


3 manual console acquired from E.B. "Stan" Cevasco of Martinez CA.
&nbsp
The three manual console was originally from opus #1474, South Bend Indiana's Granada Theatre. This instrument shipped from the Wurlitzer factory in October of 1926. According to Andy, the organ was removed from the theatre by Dave Junchen and the console was later sold to Joe Spur who used it to control his 14 rank residence organ in Lyons, Illinois (a Chicago suburb). The organ was later sold to a group who had intended to install it in a pizza restaurant in the Salt Lake City area. The restaurant plans never materialized and the organ eventually made its way to California where Andy Anderson bought the console, relay, and switchstack in August 1980.
&nbsp
Unfortunately Andy passed away in April 2012 and his expansion project was never completed.
---
&nbsp
The following article appeared in April 2013 PSTOS Pipeline newsletter:
&nbsp
Andy Anderson's 2/6 Wurlitzer going to the 7th Street Theatre in Hoquiam, WA
&nbsp
When longtime PSTOS member Andy Anderson passed away in April 2012 at the age of 96, his best friend and executor of his estate Albert Ticknor was given the enormous task of finding a good home for Andy's extensive collection of theatre pipe organ parts.
&nbsp
Andy's residence organ started out as a 2/6 Wurlitzer organ, a Style B "Special" originally installed in the Granada Theatre, Everett WA in 1927. In 1953, PSTOS member Wally Stevenson contracted with Balcom & Vaughan Organs to have this instrument removed from the theatre and installed in his residence. In 1966, Andy bought the instrument from Wally and moved it to his West Seattle home. Other the years, Andy collected other parts towards his vision of a three manual, 21 rank instrument!
&nbsp
Tom Blackwell had been working with Albert, helping him find good homes for many of the items in Andy's collection. The three-manual Wurlitzer console was donated by the estate to the Mt. Baker Theater in Bellingham and is currently being refurbished for installation later this year. Many other parts have been sold to Northwest enthusiasts.
&nbsp
Several potential suitors inspected the base 2/6 organ but none were able to commit to a viable plan for reinstallation (Albert's requirement, in honor of Andy's wishes). Then Greg Smith reminded Tom of the Hoquiam 7th Street Theatre's interest in an organ. Tom contacted them in November and they subsequently worked out a deal to acquire the organ via donation from Andy's estate.
&nbsp
Interestingly, back in 2008, Tom helped the 7th Street Theatre locate their original Style B Wurlitzer which was found in a residence in Clute, Texas. Former PSTOS President Dave Luttinen and several theatre volunteers made the trek to Clute to pack up the organ up and move it back to Seattle. Unfortunately, while in Texas, the organ was damaged by weather, rodents and insects so the project did not progress much. The 7th Street Theatre is a nice 1,000 seat "atmospheric" style house (not many of those out West) which opened in 1929. The theatre has a very capable board of directors and enjoys great community support. They have been successful in securing several large grants to restore the theatre's physical plant: new seats, new stage grid fly rigging, new electrical system, new roof, lobby tile and plaster restoration, etc. Next up is an organ! Acquiring the Andy Anderson organ will give them an all-original organ in great shape to form the basis of a reinstalled instrument which will incorporate several components of the original organ.
&nbsp
On Saturday March 23, 2013 volunteers from PSTOS and the 7th Street Theatre met at Andy Anderson's house to extract the organ. Greg Smith was contracted to manage the effort. Greg worked with the 7th Street Theatre staff and a local Hoquiam contractor to build 15 pipe crates in advance and have them delivered to the site. Starting at 8am, there were doubts that the organ could be removed and loaded into the two trucks and trailer brought by the Hoquiam volunteers in just one day. But thanks to the advance prep work done by Greg in removing windlines and disconnecting wiring, by 6pm the 12 man crew had everything removed and loaded! On Sunday March 24, PSTOS member Larry Mayer and friends traveled to Hoquiam to assist with the unloading into a donated storage space adjacent to the theatre.
&nbsp
Here's wishing the Hoquiam 7th Street Theatre all the best in their quest to have a Mighty Wurlitzer Theatre Pipe Organ once again playing in the theatre!
&nbsp

---