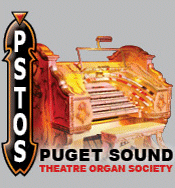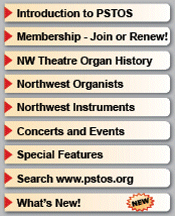 ---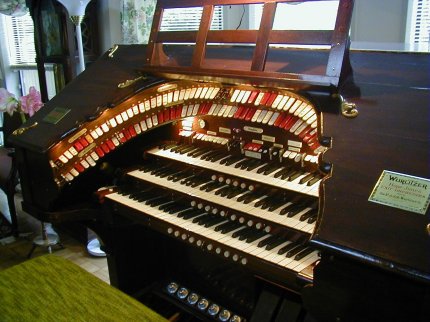 Three-manual Wurlitzer console
&nbsp


The Becvars at their "new" three manual console
The basis of the Becvar residence instrument was a Style 210 Wurlitzer (opus 362) from Seattle's Blue Mouse Theatre. The organ was shipped from the factory in October of 1920.
&nbsp
In 1957, Bob Hansen of Bellevue purchased the organ from the theatre. He built chambers in his home but the installation was never completed.
&nbsp
Jack & Mary Lou purchased the instrument in 1973. Over the years they added several pipe ranks and percussions. With the help of Mike Wallace, a three-manual Wurlitzer console originally from the Branford Theatre in Newark, New Jersey (opus 353) was acquired. The original Blue Mouse two-manual console and relay was sold to St. David's Church in Shelton, Washington.
&nbsp


Main chamber

Solo chamber
Main
French Trumpet
Open Diapason *
Tibia (Robert Morton)
Clarinet *
Brass Sax
VDO *
VDO Celeste *
Viol
Concert Flute *
Flute Celeste

Solo
Tuba *
Tibia Clausa (Wurlitzer) *
Orchestral Oboe *
Kinura (Kimball)
Musette (from Wurli Vox)
Solo String
String Celeste
Dopple Flute
Vox Humana *

&nbsp
* ranks from the original Style 210 Blue Mouse Wurlitzer
&nbsp
Piano, Chrysoglott, Xylophone (main), Xylophone (solo), Tuned Sleigh Bells, Harp-Marimba, Glockenspiel, Vibraharp, Accordion (25 notes)
&nbsp
Unenclosed: 16' Skinner Dulciana (32 notes)
&nbsp
To accomodate the organ, Jack & Mary Lou remodeled and vastly enlarged their home to give the Wurlitzer "surround sound!" The pipes were located in two chambers on the lower level and spoke up through a large opening in the center of the very dramatic new main level music room where the console was situated. There was plenty of room for the sound to resonate beautifully.
&nbsp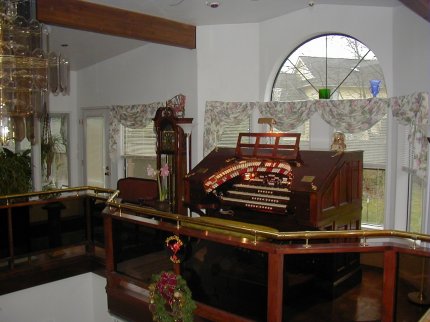 Console on the main music room level
&nbsp
Two unique features of the Becvar instrument were an Accordion stop and 16' Skinner Dulciana mounted horizontally on the ceiling of the lower level. These pipes were originally from the Alaska (Strand) Theatre in Seattle.
&nbsp

| | |
| --- | --- |
| Accordion | Dulciana, "En-chamade" |
&nbsp
A Moller Artiste roll player was connected to the organ. This unit was originally from the George Tobias mansion in the Capitol Hill neighborhood of Seattle. The diode matrix-style relay was built by Gerald Duffy of Portland and was previously connected to the Bob Rickett residence organ in Portland.
&nbsp

| | |
| --- | --- |
| Moller Artiste player | Relay |
&nbsp
The Becvars were very generous about sharing their home and theatre pipe organ with others. Many PSTOS members enjoyed events at their home and were delighted to experience not only the great Wurlitzer music, but also the Becvar's extensive collection of musical clocks and their two pet parrots!
&nbsp
Sadly, Jack passed away in 2018 following a lenghty battle with cancer. The house was put up for sale and the organ was removed in the Summer of 2019. Interestingly, the new owners of the house wanted to keep the three-manual Wurlitzer console, player piano, and a gong, but none of the pipes or other items in the chambers.
&nbsp

| | |
| --- | --- |
| Andy Crow, 1995 | Eric Shoemaker, 1999 |
---