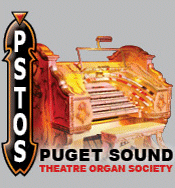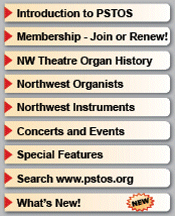 ---
Big Bob's Pipe Dream Restaurant - 4/32 Wurlitzer
Burien, Washington
630 S.W. 153rd
Organ installation timeframe: 1975-1978
&nbsp
Back to the Northwest Theatre Organ History: Pizza & Pipes Restaurants page

Big Bob's Pipe Dream, c.1976. Brad Miller at the console.
&nbsp
There were actually two "Big Bob's" restaurants! The original Big Bob's Pizza in Federal Way had a 2/9 Robert Morton and was the first organ-equipped pizza parlor in the area. Unfortunately, the first restaurant and organ were lost in a fire in December 1975.
&nbsp
A second, larger restaurant called Big Bob's Pipe Dream opened in Burien a few months before the fire. This restaurant had the large four-manual 1918 Wurlitzer from Seattle's Coliseum Theatre. Interestingly, the Coliseum Theatre was owned by the Bullitt family, who owned KING-TV. One day the Bullitt sisters decided to sell off the pipe organ. Bob was a TV technician for KING-TV. Knowing Bob was a pipe organ hobbyist, they offered it to him. He said he would love to have it but couldn't afford it. The reply was, "Would a dollar be too much?" And that's what he paid for the 4/32!
&nbsp


Multi-tier seating area for 300 and large glass-front pipe chambers. Note un-enclosed center percussion chamber.
&nbsp
Bob Koons transformed the former Burien Theatre (built in 1957), which sat over 500, into an elegant multi-tier restaurant with seating for approximately 300. The organ installation was designed and executed by Ed Zollman with assistance from Mike Koons, Bob Otey and Bob Koons. According to Brad Miller, the organ included many ranks from the Tacoma Rialto Theatre 3/15 Wurlitzer which Bob Koons had installed in his home.
&nbsp
Interestingly, the organ had no combination action which was a real challenge for players.
&nbsp
The Koons' lived in Lake City and originally planned to put the Coliseum Wurlitzer in their home. This decision led to a large addition to their residence. Only a small portion was ever installed because the pizza parlor idea came along about that time.
&nbsp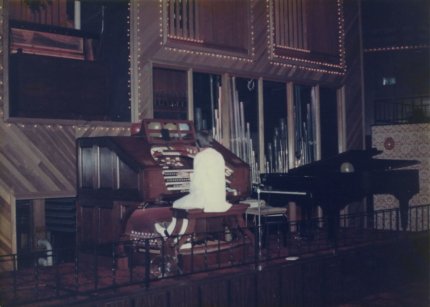 Stage area showing four-manual console and grand piano.
&nbsp
Regular performers: Brad Miller, Patti Simon, Brian Ingoldsby, Mike Koons, Bob White and Gary Christiansen
&nbsp
Concert Performers: Jonas Nordwall, Andy Crow, Jerry Gregorius, Don Isham and Don Simmons.
&nbsp
In addition to organ music for patrons, the restaurant was used for silent movies, jazz groups, magicians and school group visits.
&nbsp


OPENING NIGHT of Big Bob's Pipe Dream Restaurant, Fall 1975. Organist Brad Miller, restaurant manager Milton LaJune, general manager Nancy Christiansen (Bob Koons daughter) and owner "Big Bob" Koons.
&nbsp


Advertisement for Big Bob's Pipe Dream, c.1975
&nbsp
The restaurant changed operators briefly and was renamed "Pizza Works" before closing in the Summer of 1978. Bob Koons passed away in November 1979. The organ was sold to Milt Kieffer, owner of Uncle Milt's Pizza Co. in Vancouver, Washington. Milt stored the instrument for a number of months and was contemplating another pizza venture for Spokane or Eugene, Oregon. These plans never materialized and the instrument was sold to Dennis Hedberg, one of the owners of the Portland Organ Grinder. Dennis used a lot of the parts in the Denver Organ Grinder, and the rest were sold to various other parties. This big collection was advertised in the Theatre Organ Magazine in the late 1980's.
&nbsp
Photos & news clippings courtesy: Brad Miller
&nbsp
As of 2002, the Big Bob's building was occupied by Bison Creek Pizza.
---
For Sale: 4 Manual Wurlitzer, 26 Ranks
Excerpt from The Console magazine, October 1980 (v18, No 10, pp34):
&nbsp
For Sale: FOUR MANUAL WURLITZER CONSOLE, approximately 26 ranks, mostly Wurlitzer, percussions and toys; was playing at Big Bob's Burien, Washington, $30,000 takes all, includes 4' Brass Trumpet. Contact Milt Kieffer, 3223 N. E. 143rd Avenue, Vancouver, Wash. 98662.

&nbsp

---