---
Liberty Theatre - 4/34 Wurlitzer
Portland, Oregon
Broadway
Organ installation timeframe: 1918 - 1963
&nbsp
Back to the Oregon Original Theatre Installations page
From the PSTOS Pipeline newsletter and Eugene Nye records:
&nbsp
The original Liberty Theatre opened in 1916 as the T & D (Turner & Dankin circuit) Theatre. The house was renamed Liberty Theatre later that year.
&nbsp
The Liberty had three different Wurlitzers installed over the years, perhaps at different addresses:
In 1916, a 2/7 Style 3 Wurlitzer (opus 92) was installed. The status of this instrument is unknown.
In 1917, a 2/8, two chamber Style 4 Wurlitzer (opus 138) was installed temporarily on the stage while preparations were made for a new, larger organ. This instrument was removed eight months later and installed with additions in Portland's Mission Theatre and then later moved in 1920 to the Yakima Liberty Theatre. According to Bob Jones of Edmonds WA, the Judd Walton Wurlitzer opus lists incorrectly show this instrument going to the Yakima Capitol Theatre.
In 1918, the "New" Liberty opened and a 4/34, "Special" Wurlitzer (opus 164) was installed. According to Eugene Nye's detailed records, installation was performed by a Mr. Cockcroft with tonal finishing by Louis Maas. The instrument had 2,057 pipes, a 35 HP blower and 158 stop tabs on the console.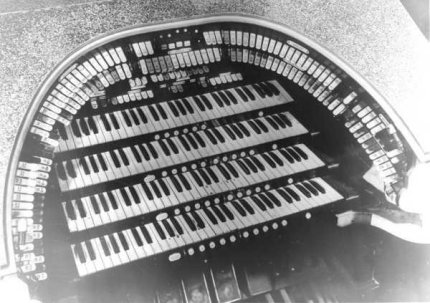 Liberty Theatre, 1918 console in the theatre
&nbsp
A matching organ was installed in the Coliseum Theatre in Seattle (both theatres were under the direction of Jensen and Von Herberg, who were also responsible for the earlier landmark Seattle Liberty Theatre organ).
&nbsp
The Seattle Coliseum and Portland Liberty were the largest Wurlitzer theatre organs built until the 36 rank installation in the New York Paramount in 1926. The Denver Auditorium was also an early 36 rank organ, but it was a concert organ, not built for movie accompaniment.
&nbsp
Theatre owner/operators Jensen and Von Herberg showcased the instrument and hired the country's top theatre organ names of the period - Henry Murtagh, Henri Keates, Albert Hay Mallotte. Henri Keates was house organist at the Liberty for many years until retiring in 1925.
&nbsp


Looking South from Oak Street. Note "Statue of Liberty" signage on right.
&nbsp
According to William Hansen: "Over the years the most effective 32' Diaphone and general power of the organ caused considerable plaster damage in the theatre. The organ was played day and night for well over ten years, and the middle keys of the Great and Accompaniment manuals were worn well through the ivories, deeply into the wood base. It was a great success all the way around."
&nbsp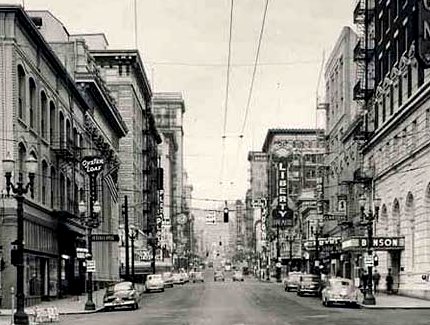 Broadway, looking south. Liberty Theatre on right c.1950
&nbsp


Liberty Theatre with new aluminum facing on the building. c.1952. Photo by Marvin Fox, courtesy of Jeff Fox, 2014
&nbsp
Below is a 1950's street scene image from a postcard. The Liberty Theatre signage is visable at the far left. Note also the Sherman Clay Music sign above the Payless Drug store.
&nbsp


Postcard view offering a glimpse of the Liberty Theatre, far left, c.1950s
&nbsp
According to Eugene Nye, the organ was last used in the theatre in February, 1959. Sometime in the early 1960s, the 32' Diaphone and 4' Harmonic Flute were given to Dennis Hedberg in exchange for work on the organ.
&nbsp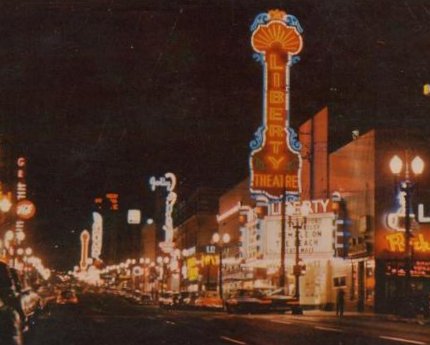 Looking South on Broadway, c.1955. Fox and Paramount Theatre signage also visible in the background.
&nbsp
In the mid 1960's, the organ was sold to Lou DuMoulin of Seattle who installed it in the former Granada Theatre in West Seattle. The Granada Organ Loft Club was formed and Lou later sold the organ to the group.
&nbsp
In 1974, the Forchuks (Organ Grinder financiers) and Dennis Hedberg purchased the instrument and used a portion of it in the Organ Grinder Restaurant in Portland; most notably the 32' Diaphones and 4 rank Vox Humana chorus (with one rank going to 16'). The remainder of the instrument was dispersed for parts.
&nbsp


c.1950's
&nbsp


c.1954. Orpheum, Broadway and Paramount Theatre signage visible in the distance.
&nbsp


c.1950s
---