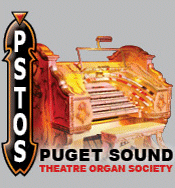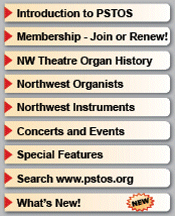 ---
Benson Polytech High School - 3/24 Kimball
Portland, Oregon
NE 12th & Irving (near Lloyd Center)
&nbsp
Back to the Northwest Theatre Organ History: Other Installations page

Sandy Balcom at the console, date unknown.
The Benson organ was based on a 3/9 from the Columbia Theatre in Longview, Washington. It was purchased by the student body and installed (with additions) by Balcom & Vaughan in the late 1930's. The additions included 15 straight ranks controlled by tabs located on the back rail.
&nbsp
According to those who heard it, the organ had "rich, unique sound." The instrument was well-used in the 1940s and early 1950s. As a student at the school, Franklin Butte became very proficient. The organ had only moderate projection into the auditorium, but was a fine sound. Unfortunately, after Franklin left, the organ languished, largely unused.
&nbsp
In December 1969, the Oregon chapter ATOS presented a proposal to the school district for renovation of the instrument. In 1970, the proposal was accepted by the school and work was begun. Gerald Duffy was in charge of the project.
&nbsp

| | |
| --- | --- |
| Gerald Duffy | Bert Hedderly, Gerald Duffy and Bob Burke |
&nbsp
The club donated all labor and the school district furnished the cash needed for replacement of parts. In return the club got the use of the instrument four nights per year. For many years, the chapter had a contract to maintain the organ.

This instrument was later moved to Cleveland High School.
&nbsp

---