---
Barbary Coast Restaurant - FotoPlayer
Portland, Oregon
Organ installation timeframe: 1963 -
&nbsp
Back to the Theatre Organ History: Restaurants page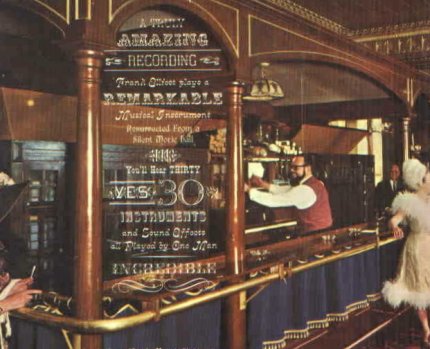 A glimpse of the Barbary Coast fotoplayer from an album cover, c.1965
Note: hinged lids on the left and right cabinets
&nbsp
The Barbary Coast restaurant/bar may have been the first organ-equipped eatery in the Pacific Northwest. In 1963, owner Harvey Dick rescued a 1912 Fotoplayer from the Arcade Theatre in Hoquiam, Washington and installed it at the restaurant.
&nbsp
The only information available on this instrument is from the LP record jacket (a souvenir most likely sold at the Barbary Coast gift shop):
&nbsp
Sounds of the Barbary Coast Frank Elliott at the Fotoplayer Hoyt Recording Company, Portland OR Stereo LP.
&nbsp
This LP included the tracks: Twelfth Street Rag; Only a Bird in A Gilded Cage; Yes, We Have No Bananas; Thunder and Blazes; William Tell Overture; Nola; I Wish I Could Shimmy Like My Sister Kate; Havah Nagila; Casey Jones; Chinatown, My Chinatown; The Perils of Pauline; Bill Bailey; Hi-Lili Hi-Lo; Can Can; Beer Barrel Polka. Included are: Reed Organ; Pipe Organ; Player Piano; Orchestra Bells; Snare Drum; Bass Drum; Chinese Gong; Crash Cymbal; Hi-Hat Cymbal; Train Whistle; Fire Siren; Klaxon; Diesel Horn; Castanets; Wood Block; Horse's Hooves; Tambourine; Triangle; Whipcrack; Sleighbells; Cowbell; Doorbell; Bicycle Bell; Thunder Roll; Five Bulb Horns; Pistol Shot.
---