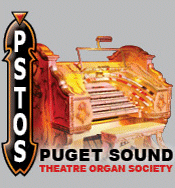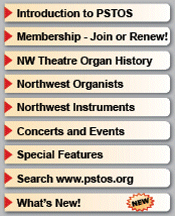 ---
Rumgay residence - 2/5 Wurlitzer
Bend, Oregon
Organ installation timeframe: mid 1980s-1998
&nbsp
Back to the Theatre organ History: Residences page

Rumgay console, c.1990s
The Rumgay residence organ was based on a Style 109 Wurlitzer (opus #1264) originally installed in the Bend Liberty Theatre.
&nbsp
In the 1930's, the organ was moved to the Bend First Presbyterian Church. A new console and two ranks were added.
&nbsp
The instrument was purchased by Rick & Roxy Rumgay in the 1980's. The pictured console is not original. Records indicate a piano-style console was shipped from the Wurlitzer factory.
&nbsp
In 1998, the organ was sold to Fr. Don Maddox at St. Davids Episcopal Church in Shelton, Washington.
&nbsp
Photos of the installation in the Rumgay home:
---