---
Liberty Theatre - 2/4 Leathurby-Smith
Ketchikan, Alaska
Front St.
Organ installation timeframe: 1920's-1934
&nbsp
Back to the Alaska Original Theatre Installations page

Front Street, Liberty Theatre on left
&nbsp
The Liberty Theatre had a two-manual, four rank Leathurby-Smith organ, installed in the 1920's (exact year unknown). Mary Randall was an organist there, dates unknown.
&nbsp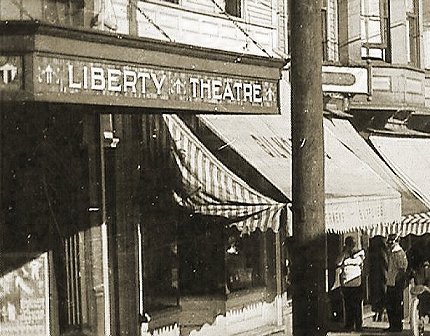 Liberty Theatre entrance
&nbsp
The instrument was later moved by Balcom & Vaughan in 1934 to Seattle's Alki Natatorium for a cost of $750. It spent only a short time there - being removed in 1936.
&nbsp
According to Jim Stettner's review of the Bill Bunch/Eugene Nye records, the organ was subsequently installed in the Marketeers Club (specific date unknown). After a fire there, the chests were removed to Dittleson's Funeral Home in Kelso, and the relay and switchboard were moved to the William J. Bunch residence in Seattle.
---
Stoplist and historical notes from Jim Stettner
&nbsp


Accompaniment
16 Contre Viol
16 Bass Flute
8 Open Diapason
8 First Violin
8 Concert Flute
8 Vox Humana
4 Octave
4 First Violin
4 Flute
22/3 Twelfth
2 Piccolo

Orchestral Bells
Snare Drum
Tambourines
Castanets
Chinese Block

Solo


16 Contre Viol

16 Bourdon

8 Open Diapason

8 Viol d'Orchestre

8 Concert Flute

8 Vox Humana

4 Principal

4 Viol d'Orchestre

4 Wald Flute

22/3 Twelfth

2 Piccolo

Orchestral Bells
Glockenspiel
Xylophone

Pedal
16 Bourdon
8 Open Diapason
8 Cello
8 Flute
4 Octave
Kettle Drum
Cymbal
Crash Cymbal

Tremulant
Main

Pistons
None

Toe Studs
Sforzando (rev)

Pedal Movements
Expression (bal.)

Action: E-P unit

Voices: 4

Stops: 39; inc. percussions

Ranks: 4

Pipes: 304
---