---
Dream Theatre - 2/9 Estey
Seattle, Washington
First & Cherry, downtown
&nbsp
Back to the Washington Original Theatre Installations page

Dream Theatre entrance, date unknown
&nbsp
According to some accounts, the first movie theatre in the United States to have an organ was the Dream Theatre in Seattle, Washington. James Q. Clemmer opened the Dream Theatre in a former bank lobby at First Avenue and Cherry Street. An Estey organ (Opus 579) of nine ranks was installed in 1908. Opening organist was Oliver Wallace.
&nbsp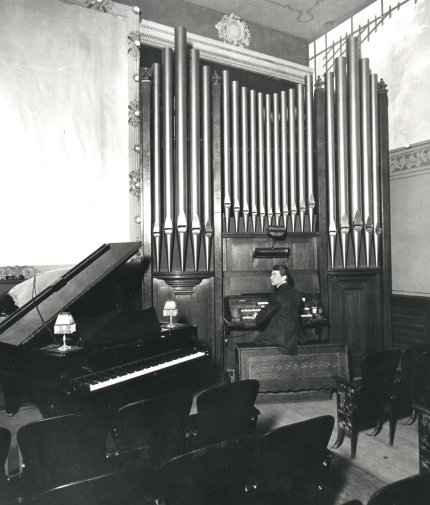 Oliver Wallace at the Dream Theatre, date unknown
&nbsp

The instrument was purchased through Sherman Clay Music Co. of Seattle.
&nbsp
The organ was later enlarged to three manuals. It was sold in 1914 to St. Joseph's Roman Catholic Church in Yakima where it remained until the church was razed in 1926.
&nbsp
The instrument then went to another church in Spokane, although augmented. It is still believed to be in this church.

Dream Theatre console as installed at St. Joseph's Church in Yakima.
---