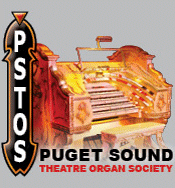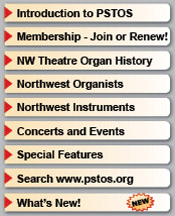 ---
Blue Mouse Theatre - 2/4 Robert Morton
Astoria, Oregon
Commercial St.
Organ installation timeframe: 1922
&nbsp
Back to the Oregon Original Theatre Installations page

Opening night program, August 12, 1922
The Blue Mouse Theatre opened on August 12, 1922. The opening program is shown here. A 2/4 Robert Morton was installed.
&nbsp
Unfortunately, the theatre was only open for a few months before it was lost in the terrible fire on December 7, 1922 that claimed over 200 businesses in 30 square blocks of downtown Astoria.
&nbsp
Hearing of the fire, theatre owner John Hamrick quickly arranged to lease an old garage at 14th and Exchange Streets. He, together with Sandy Balcom and others, worked around the clock to setup a new Blue Mouse (complete with Photoplayer organ) in time for Christmas that same year! An article describing this impressive feat is included below.
&nbsp


Early postcard view of Commercial Street before the 1922 fire. Over-street signage most likely for the Blue Mouse Theatre.
&nbsp

---
&nbsp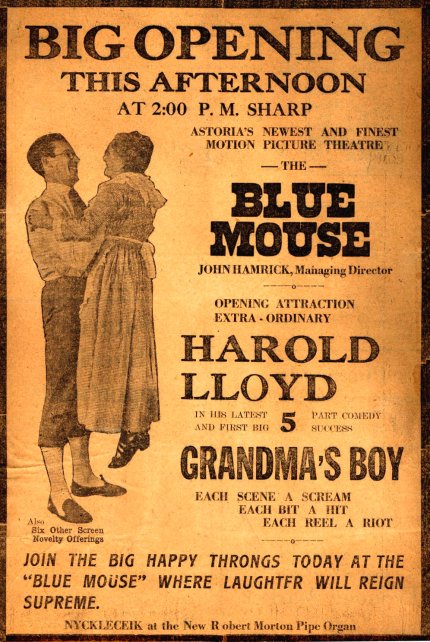 Flier for opening night, c.1922
&nbsp
Two articles about Blue Mouse organist George Nyckleceik from the local Astoria papers, August 16, 1922. Note modified spelling of last name.
&nbsp

---
January 7, 1923 article from the Morning Astorian newpaper describing John Hamrick's efforts to setup a new Blue Mouse Theatre. Click for a larger version.
&nbsp


&nbsp
View of the temporary garage location at 14th and Exchange Streets and some of the key individuals who helped open the doors by Christmas 1922. Click for a larger version.
&nbsp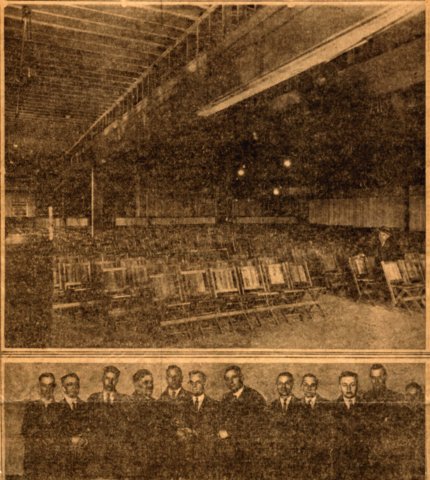 Left to Right—H.R. Resner, C.T. Diamond, architect; Sandy Balcom, Sherman Clay and Co.; James Bremner, former mayor; former Chief of Police Carlson; John Hamrick; Mayor O.B. Setters; Art Hile, resident manager; H. E. Jackey, of B.F. Shearer, Inc.; George Nyklicek, organist; Dick Hobson, operator; and A.E. Woersel of Sherman Clay and Co.
---