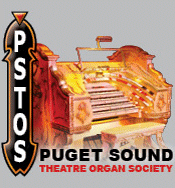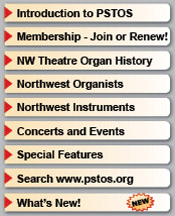 ---
| | |
| --- | --- |
| PSTOS presents: | |
2019 Theatre Organ Pops Series
Three Major Concerts at Calvary Christian Assembly!
Our fifth annual subscription concert series, made possible by the rebuilding and expansion of the 3/25 Kimball-Wurlitzer organ at Calvary Christian Assembly. Email info@pstos.org for more information.

All concerts held at:
Calvary Christian Assembly
6801 Roosevelt Way NE
Seattle, WA


All concerts begin at 2:00pm. Plenty of free parking
---
Saturday, July 13
DAVID GRAY
DAVID GRAY, a native of Glasgow, Scotland, says, "The first organ I ever saw was a church organ and I was absolutely fascinated with it," Gray says. "I just love keyboards, because I'm a pianist. Then my grandma took me to a pops organ concert when I was 11, and I discovered that it was also an instrument for the fun music I liked. I could actually play popular music
on an organ, and I saw all those cool gizmos and all the other possibilities that were more than just a church organ." David will play in Seattle after performing for the international convention of the American Theatre Organ Society in Rochester, NY.

---

Saturday, Oct 12
MARTIN ELLIS
MARTIN ELLIS bridges the boundary between the classical and popular music worlds. He has performed in many of the major theatre organ venues throughout the country. He was one of the "house" organists for the Sanfilippo Palace de Musique in Chicago on the largest theatre pipe organ in the world. He has served as staff organist at Milwaukee's Piper Music Palace, and at Uncle Milt's Pipes and Pizza of Vancouver, WA.
Martin has long been a member of Trio Con Brio with Donna Parker and Jonas Nordwall , presenting concerts featuring three organs played simultaneously. Martin currently is a resident of Portland, Oregon, where he is Co-Music Director and Organist for Rose City Park Presbyterian Church, and an active face in the Portland music scene.

---

Past concert:
Saturday, March 16
JONAS NORDWALL
JONAS NORDWALL, a Portland native, was one of few organists professionally playing theatre pipe organs beginning in the mid 1960s. He was Senior Staff Organist for the Organ Grinder Corporation, performing in both Portland and Denver on custom designed Wurlitzer Theatre Pipe Organs in lavish restaurant settings. Jonas has been a featured artist for many American
Theatre Organ Society national and regional conventions. The society's "Organist of the Year" Award was presented to Nordwall in 1987. He resides in Portland with his musician wife, Nancy. They both enjoy being grandparents to four delightful grandchildren.