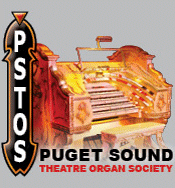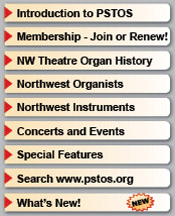 Welcome to the Puget Sound Theatre Organ Society, a non-profit organization furthering the appreciation, preservation and use of the Theatre Pipe Organs of yesteryear. PSTOS serves Washington, Oregon and the entire Pacific Northwest.
---
PSTOS News

Tribute to Andy Crow
A wonderful tribute to one of our area's premier Theater Organists was held October 24th, at the Keller Residence. Click here to see the slide show (21 MB PDF file)
PSTOS Calvary Organ Fund Drive!
&nbsp
PSTOS is excited to report that the major upgrade of the Kimball-Wurlitzer organ at Calvary Christian Assembly has been completed! Additional funds are needed to support ongoing repair and maintenance. Find out more...
Read More News
---